Samsung has come up with some of the best smartphones that you would find in today's time. The wide range of smartphones and tablets come in various price ranges and suits everybody's budget. The Galaxy view 2 tablet is one such addition in the Samsung range of products that is loaded with features. The company has also launched various eco-friendly measures to help protect the environment while catering to the demands of the masses.  In this Galaxy View 2 tablet review; you will get to know everything that this tablet has to offer.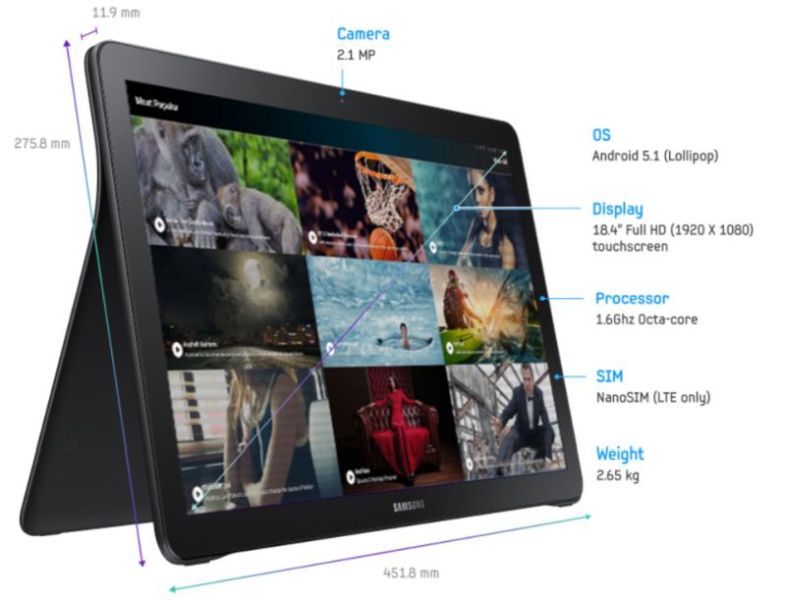 Image Source : superzeppo.files
Galaxy view 2 tablet review say that it could be placed in a deployed or open position where the hinge will become a stand to keep the gadget upright similar to a laptop. This feature is best for those users who are interested in watching videos. Galaxy view 2 tablet review also says that the hinge and stand are not detachable from this device.
Interesting Specifications of the Samsung Galaxy View 2 Tablet
Samsung galaxy tab came into being in October 2015. Galaxy view table features and specifications include
A display screen of 18.60 inches having 1080 pixels by 1920 pixels of resolution
It comes powered with an octa- core processor of 1.6 Hz and a RAM of 2GB.
Internal storage of 32 GB and has an allotment for an external storage memory card as well.
There is no primary rear camera in Samsung galaxy view pack. However the device has a front shooter camera of 2.1 megapixels for selfies.
It runs on 5.1 android version and has a removable battery of 5700mAh power. The tab has dimensions of 451.90X 275.80 X 11.90 with a weight of 2.65 grams.
It comes with a single nano- sim slot.
Other connectivity options include 3G, 4G, FM, Bluetooth, GPS and Wi-Fi. Gyroscope, ambient light, accelerometer and proximity sensors can be found on this tablet.
Galaxy View 2 tablet review on the features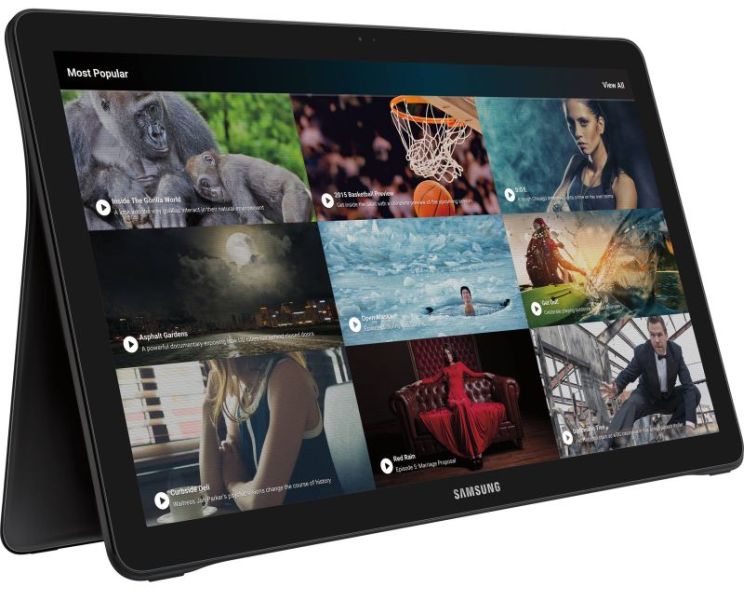 Image Source : bhphotovideo.com
Display: Samsung has designed the most prestigious android powered tab supporting full HD screen view which is as large as a TV and at the same time light enough to be called portable. Its sweeping landscape view of the screen comes with a ratio of 16:9 which is quite large to provide a great viewing experience.
Entertainment: The company has joined hands with some of the best content providers who may allow you to access all best movies and TV shows with just a fewer taps.
Family Square:  The family square app will let you bind with your friends and family. The customised dashboard is very advantageous for sharing photos, handwritten notes and has a video live chat with ease.
Design: galaxy view has a stand that could work in two ways so that you may adjust it according to the way you want things to see.
Mobility: it's beautiful handle and thin profile makes it mobile so that you may pick it up from one place to another without missing even a single beat. You may enjoy watching this TV anywhere, anytime with its Wi-Fi cellular connecting feature.
Battery: make your movie night more special by fixing this galaxy view tab outdoor, under the stars and next to campfire. You have eight hours of battery coverage for it.
New Samsung galaxy view 2 tablet review and facts
It is good news for all the fans of galaxy tablet, that another version of this galaxy view tablet is all ready to hit the market. Its style will reassemble to a book and is expected to be marketed as a portable TV or media steamer. It will be sold through AT&T.
The galaxy view tablet of 18.4 inches running on 5.1 android was launched in 2015 with an initial price of 600$. There were no similar gadgets available in the market that time. This device weighing 6 pounds came out with a mammoth monitor along with an inbuilt operating system.
What do sources have to say about the Galaxy View Tablet 2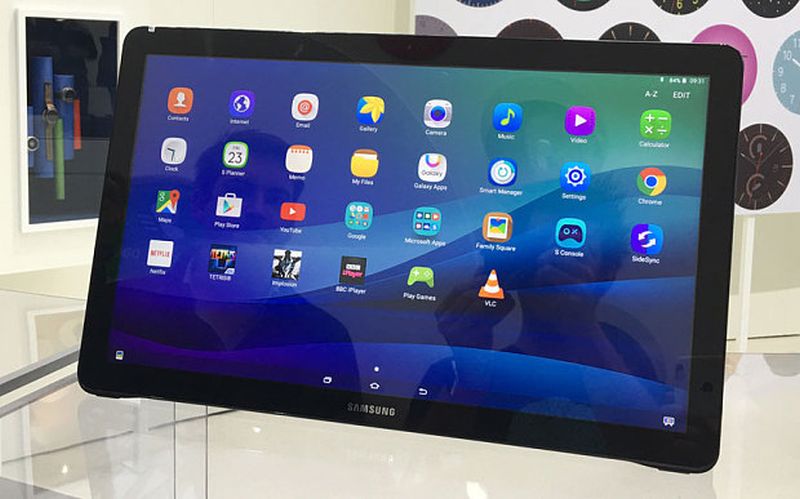 Image Source : secure.i.telegraph.co.uk
Sources say that the latest version of Galaxy view is going to be more compact and practical. The important point to note is that the preceding model was charged through an adapter similar to what is used for laptops. However, the newer model will charge through USB- C.
Another thing to note is that, Samsung galaxy view 2 tablet configurations comes with a big handle with a hinge as books have which could function like a stand. This device could be set in 2 configurations. The 1st is in the closed form, which will make it look like a desk meant for drafting along with a gadget that is angled at 30 degrees approx.
Some extra features to watch out for
This latest version of galaxy view tablet is expected to have a screen of 17.5 inches which will run a resolution of 1080p HD. Also, it will not come equipped with stylus. According to the galaxy view 2 tablet review, it will run through Android Oreo, customised with Samsung skin.
The galaxy view 2 tablet configurations will use Exynos processor as was used in the original version. Newer version will also pose a RAM of 3 GB and will not support DeX mode. Details regarding the pricing have not come out yet. As per the galaxy view 2 tablet review, the phone is expected to release in October this year. It also comes with various accessories that will enhance your experience while using the tablet.