The new Nokia N900 may look and give the impression of being in the same bracket as that of its predecessors in the much famed N-series, but in reality it is completely different in all aspects from them. It is a side-slider Qwerty phone which strives to be different from all its predecessors. The best thing about it perhaps is its combination of the best from the worlds of tablets as well as a phone. And as such, the most important feature gained by it from the tablets is the seamless connectivity and browsing making them its greatest aspect. It is powered by Maemo, and it features Mozilla browsing to provide a delightful experience. The smartphone boasts of a high-res display. Irrespective of all that, the traditional Nokia feeling is not at all lost while you use the set, least of all it being completely gone.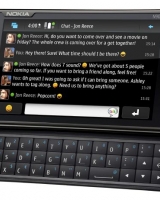 Performance
Its CPU is definitely one of the most powerful of its kind in its class. Powered by the TI's smart multicore OMAP, it has the ARM Cortex-A8 which clocks at 600 Mhz. It has a wide range of connectivity options ranging from the HSDPA, 3G, and WLAN & WiFi for seamless wireless Internet access over broadband. 
Some other means of data exchange and connectivity include USB 2.0, Bluetooth, TV Out, Stylus and 3.5 mm Inputs for Audio Jack for ensuring great performance.
Features
As it is powered by the Linux based powerful OS Maemo 5.0, it has been able to bring on board quite a lot of features, which may not have been possible with the Symbian OS, thus bringing some much-needed freshness in the Nokia mobile line.
Its Internet browser is powered by Maemo, which is based on the Mozilla engine for providing seamless and error free browsing throughout. To add some color and fun, menus are animated. It also offers much flexibility in multi tasking. The Adobe Flash 9.4 is a big plus to invigorate the charm.
To the delight of all the social networking buffs, Facebook, Twitter, OVI come integrated within the N900. In addition, it promises smooth desktop integration and has capability to run Ajax, Real Media, flash, etc. 
Design
The smartphone touts the dual feature of having a touchscreen and a QWERTY. It is definitely bigger when compared to other phones in the E-series or the iPhone. But, its comfortable grip ensures that there are no issues while holding it. Though the phone supports landscape mode for carrying out most of its functions, however, some of its features like video calling, earpiece, etc. require it to be used in the portrait mode. It is definitely quite big, but thankfully, it just manages to fit into your pockets.
Bottomline
Priced at about INR 24,500, it is a relatively cheaper smartphone; a high-end one at that when compared to its many competitors. It delivers on almost all fronts, with the omnipresent landscape mode being at the forefront. Its strongest competitor is from its own family in the form of Nokia N97 Mini, which, priced at 20k, may edge out its famed successor by virtue of its good multimedia features and dependable OS. Motorola Milestone is another worthy phone to mention in this bracket. Though a bit overpriced, it is a better smartphone.
Overall, N900 manages to impress all, which is a step in the right direction by Nokia, to make the perfect and super powered smart phone.