Google Cultural Institute has developed a new app that creates an unparalleled experience for art and culture enthusiasts. The app has a range of tools to filter out your specific searches. It will allow you to immerse yourself in an unsurpassed cultural experience that crosses domains of art, history, and wonders of the world. All these are brought together from more than a thousand museums spread across 70 countries.
Covering the plethora of art in an app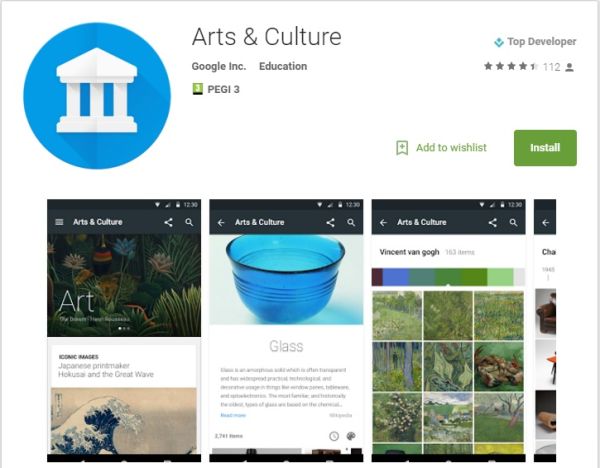 Art is a very diverse subject. With layers, cultures, stories, sections to it this field can be scary for any enthusiast looking for adventure. Google, has proven that the company is not afraid to take risks. The company lifted the drapes and introduced the world to its app and website called the Google Arts & Culture. The app intends to introduce users to every aspect of art by utilizing the resources it had collected from over 1000 museums. The app has some intriguing features, with some new updates added to it.
Search with filters
Multiple filters are present in the Google Arts & Culture app. These will work towards eliminating unwanted results from popping up and help users reach a required database quickly. Much like Google's commendable work as a search engine, the app glides through your keywords and brings the most appropriate results to your screen instantly.
Photo and video support
Google did not just tap the shoulders of the 1000 museums for just photographs. The giants managed to bring users myriad options of surfing through all the art collections. The app can be used to glide through the innumerable pictures of pieces of art; with a capability of zooming in. 360-degree video tours of monuments are also available for you to learn cognitively. You can simply pop the phone in your Google cardboard and take thefirst-hand experience of every monument.  In addition, the app also integrates with a dedicated YouTube channel.
Street-view like tours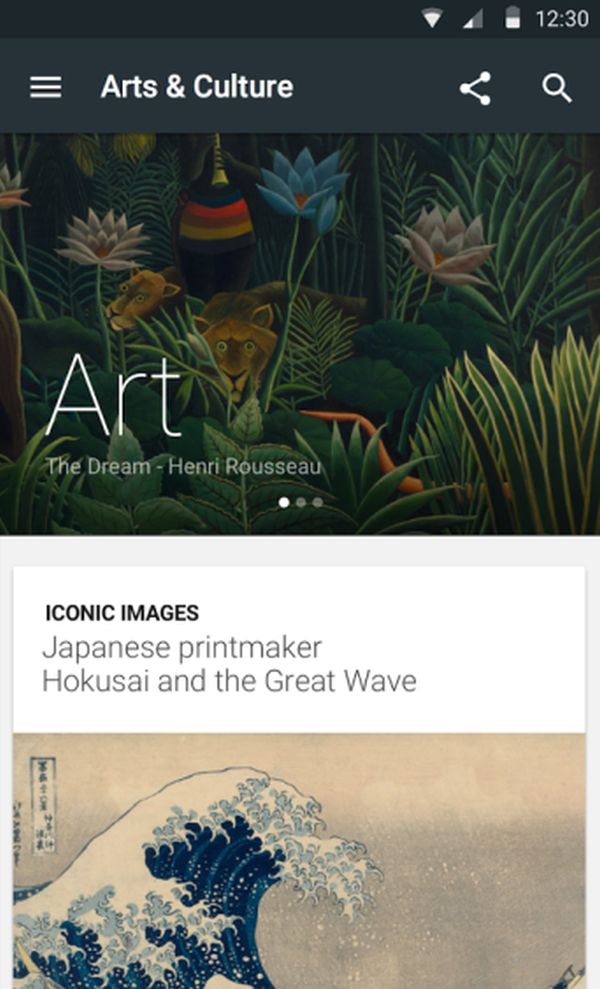 The company has been working extensively to bring virtual tours of famous landmarks to its users. The tours offered by the Google Arts & Culture app are not so different than the former. All a user needs is a virtual reality viewer like Google Cardboard. Once the phone is placed with cardboard, you can take virtual tours of the monuments and art exhibits. It is also possible to take a Street View-like tour, which works almost like navigating the Google Maps Street View.
Art Recognizer
This unique feature in the app is currently available at select museums. It allows you to point your phone's camera at a piece of art on display in the museum to draw out all relevant information about it on your smartphone. This feature is live at London's Dulwich Picture Gallery, Sidney's Art Gallery of New South Wales, and the National Gallery of Art in Washington, DC. The feature is going to be available in many other museums around the world soon.
A YouTube channel
The new Google Arts & Culture YouTube channel can be subscribed by users. This channel will provide all the latest news and information to subscribers. The Google Arts & Culture app is currently available for both Apple as well as Android users. The app has a news section where the recent news and feed are updated making it an essential app for enthusiasts of art.
Sorting through art
The app can be used to flow through various works of art. You can choose anartist, color, emotion and many other ways to sort out art pieces. A color tab on the top of the screen for each artist will enhance the results to showcase art in the chosen color. All these features make this app a great choice for art information among all other mobile phone apps .
Google has revealed its power with the launch of an app designed to bring the experience of a museum to your hands. With over 1000 museums signed with it and a plethora of information on various aspects of art, the app is creating a buzz around the world.