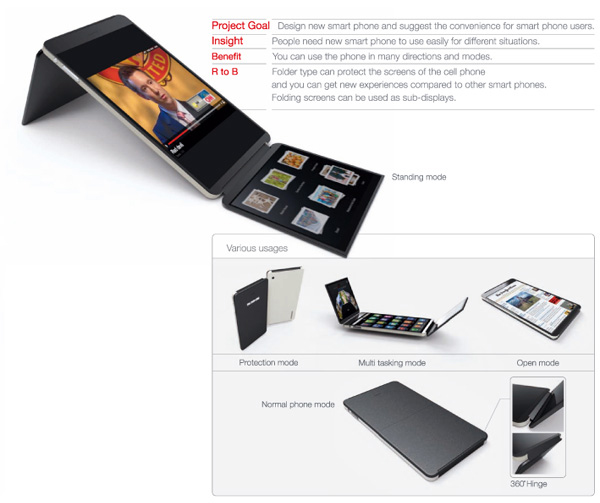 Designers never fall short of ideas when it comes to transform the way we see and use our gadgets today. Cellphone designs, which entail basic calling and text messaging features, camera, games and social networking, have also been evolving over the years. Every new concept phone promises impressive features and form. However, how about taking the modern flip phones a couple of dimensions past the cool and the neat? Well, we have created a list of some amazing folding concept mobile phones that deserve a glance for sure.
360 Folding Mobile Phone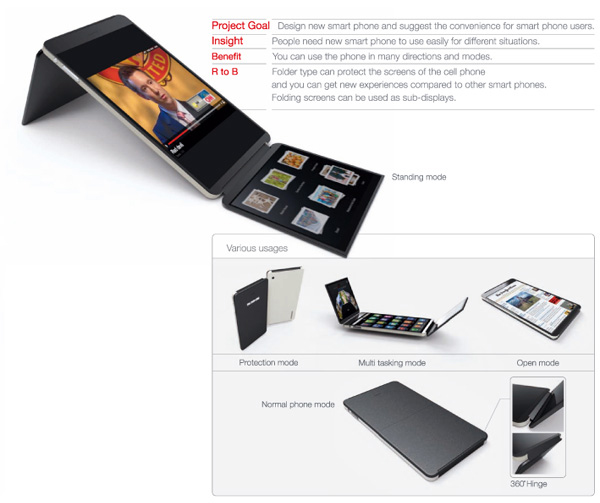 The new concept mobile phone, visualized by creatives at SADI design School, comes with multiple touch screens that can be hinged together to simulate a tablet like feel or folded to make the device easy to hold and carry. It is an attempt to bridge the distance between multi utility of a tablet and portability/compactness of a handset. Designed by Baek Kil Hyun, the phone can be used in three modes, "standing mode", where it can be propped to view the main screen, "multitasking mode", when all the three screens are in use and "open mode", when only the main screen is used.
Roll-a-call foldable cellphone concept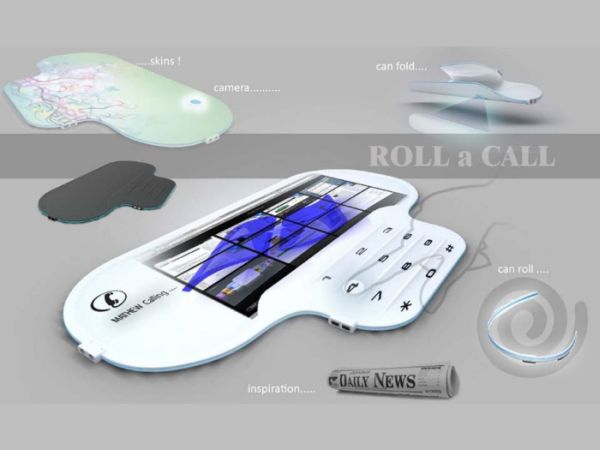 Designed by talented Sudhanwa Chavan, Roll-a-Call is an OLED based handset, which has touch screens that are divided into three dedicated areas for performing three major functions, as defined by the user. With separate areas for keypad, main phone menu and browsing unit, the handset avoids cluttering and offers great user interaction.
Concept Folding phone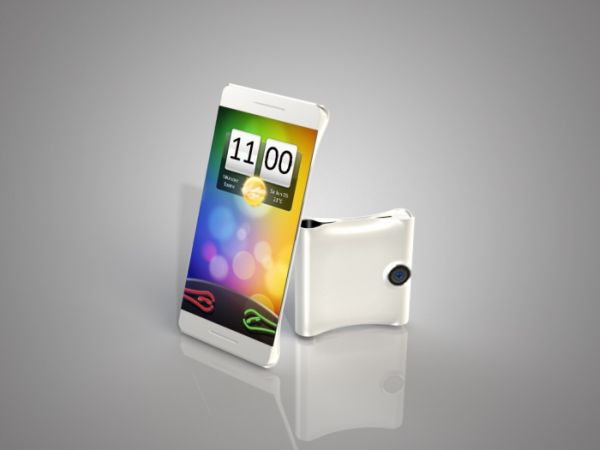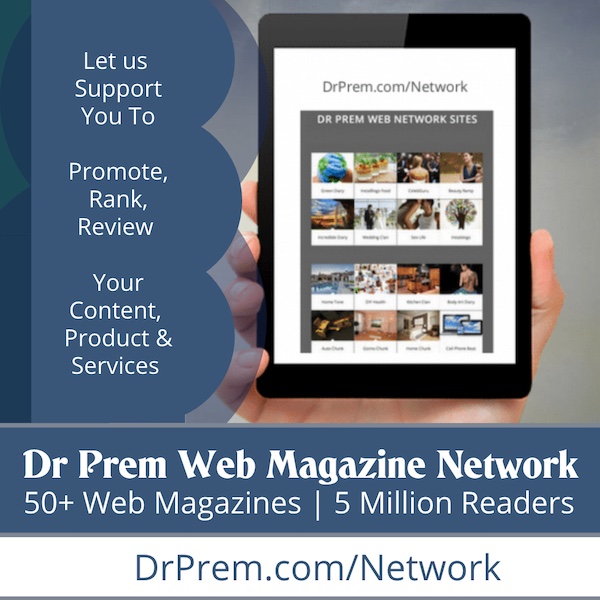 The Concept Folding phone has 1080p screen, edge to edge display and a thickness of 7.5 mm. Designer Max has managed to create a unique curve instead of hinges that allows the screen to bend in circle. When closed, display is completely protected as it moves into the gap and it never bends below a radius of 5mm. The screen space makes it easy to make and disconnect a call through virtual keys. The designer says the idea is to protect the screen from scratches.
LG Flutter Concept Phone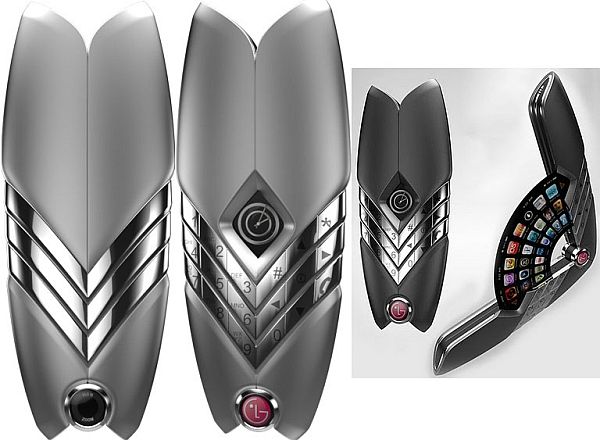 Flutter was an entrant at LG's Design the Future contest that invited the consumers to submit concept designs. This design was not the winner, but it managed to grab the Prop Master's Choice Award. The candy bar style handset blossoms when you press the LG logo to reveal a touch screen running S-class user interface. Looking at it, one can clearly guess the inspiration behind it that can be a butterfly or boomerang. This is not a practical design because it is not possible to use all the features of the phone single handedly.
Kyocera's Kinetic Flexible OLED Cell Phone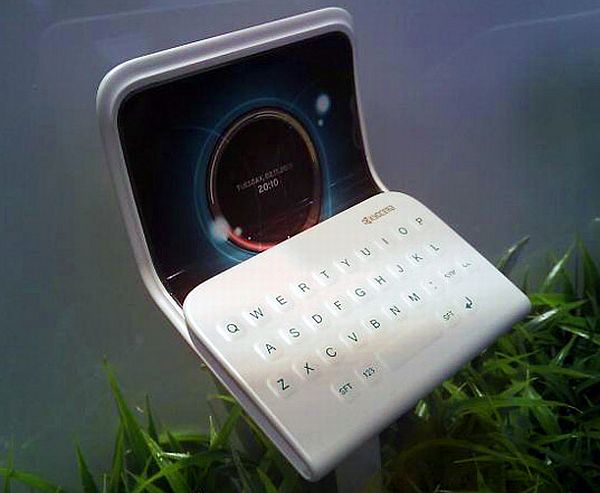 Designed by Susan McKinney, this concept handset known as EOS phone, comprises a semi-rigid, soft polymer skin surrounded by an energy efficient OLED display. Charting the future of cell phones, this phone has the ability to fold like a wallet and to grab attention of anyone who looks at it.
Packet: Foldable Concept Mobile Phone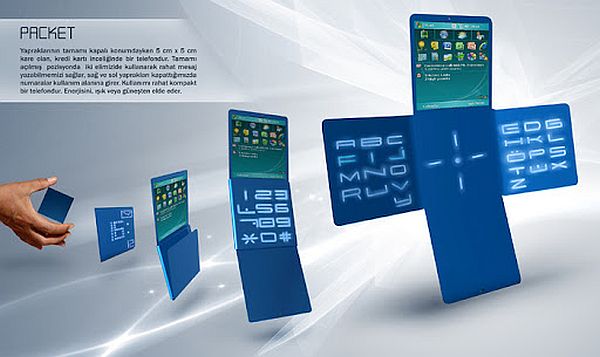 This fabulous foldable handset won the first prize at Instanbul Design Week 2007 and ensured a long list of jobs for its designer Emir Rifat. Christened as Packet, the concept phone can be easily held like a 5cm x 5cm flat square box. Once you open the keypad, you can flip it towards right and left hand side. In the center, you will have the joystick. Back of the handset has a large digital clock on its exterior surface. All the four sides can be opened and again compiled as a square container.
Wild Fold: Future Foldable Mobile Phone Concept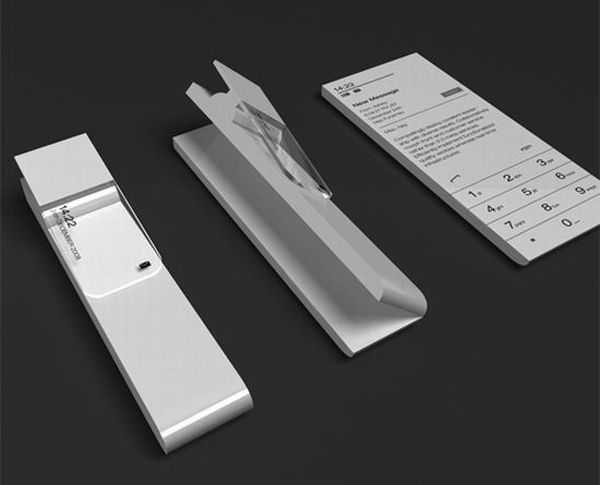 Dubbed as Wild Fold, the foldable mobile phone concept takes its inspiration from Samsung's Flexible OLED. Designed by Mac Funamizu, the impressive handset will be very compact, easy to carry and fun to operate.
LG folding phone

This advanced, hi-tech concept offers its users a whole new way of using mobile phones, like a headset. Inner part of the headphone, oh! sorry, handset makes space for two speakers and the outer part works as a touch screen. You can wrap it around your head to enjoy the music or attend the call while moving around.
Gabler concept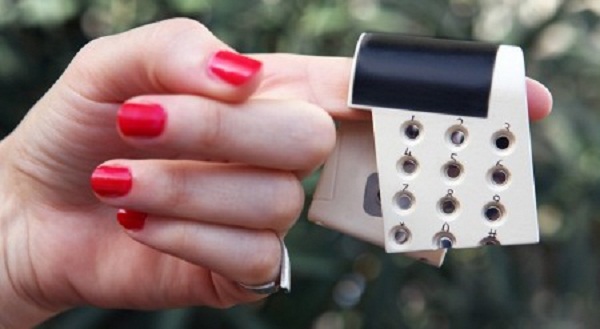 Created by Paz Brouk, this cell phone, named as Gabler, ignores the appearance of a traditional handset. This concept phone takes its design inspiration from the edges of a woman's purse or a man's pocket. To hang up on the edges, the phone folds in a diagonal line in the middle because both of its outer shell and screen are flexible. Apart from that, it includes all the features of a standard mobile phone.
Plica Concept Phone

Designed by James Piatt, this hot looking concept phone has two touch screens to offer a comfortable and bigger interface when compared to the one on iPhone. You can also use one screen as a keyboard and other for viewing things. These screens fold both the ways, so that you can use it as a regular phone. For connectivity, there is a USB port and 3.5 mm audio jack.