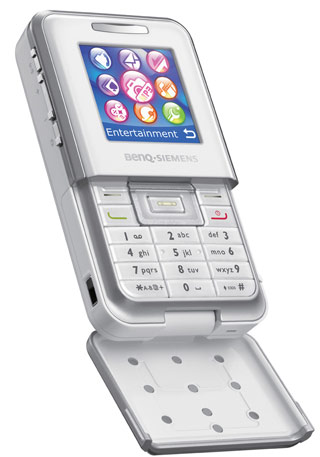 BenQ has set up to launch its Siemens EF51 to its wide range of mobile phones. This trendy and upcoming mobile phone is a music phone and is targeted to the Indian market. Some of the interactive features of this great handset make it unique and easy to use.
Users of the Siemens EF51 can control their music directly from the EZmusic keys making it easy and operational. The great music features has been named as Speech-to-music features which can easily distinguish between the user vocals and the music tracks. You can also download songs from PC using bluetooth and datacable.
According to the head of BenQ of India, some mobile phones do not meet the quality requirements of the music to the ears where as Siemens EF51 is not only a pleasure to the ears but also meet the quality requirements transforming the device into a music phone as and when required. The quality and lineament of the sound in the Siemens EF51 is as comparable to the complete music system in your home. The formats to which Siemens EF51 is compatible to are: WMA, MP3, AAC, and AAC+. Sounds interesting enough?
Some of other attractive features of the Siemens EF51 are its MiniSD card slot for your memory card to make your phone completely personalized and a FM radio device to keep you hooked and up on your toes throughout the day. Users can also record songs and their vocals coupled with the 3D surround stereo system. One also receives A2DP Bluetooth stereo headset and high quality 1.3 Megapixel camera to catch some golden moments.
BenQ Siemens EF51 mobile phone will soon be available in the Indian markets at a small rate of Rs. 6300/-.
Source: Techgadgets