ITunes can be a chore. From synchronizing issues to the constant need to update, many people love their Apple products but cannot stand iTunes. And at the top of the list of annoyed peeves is the fact that a ringtone- a file not larger than a few megabytes- is often synched by the software before it can be used, and the synching can take anything from a few minutes to hours. However not all ringtone apps for iPhones need to go through iTunes and here are some which provide great sound effects and tones.
Up to 30 seconds
Ringtone Convertor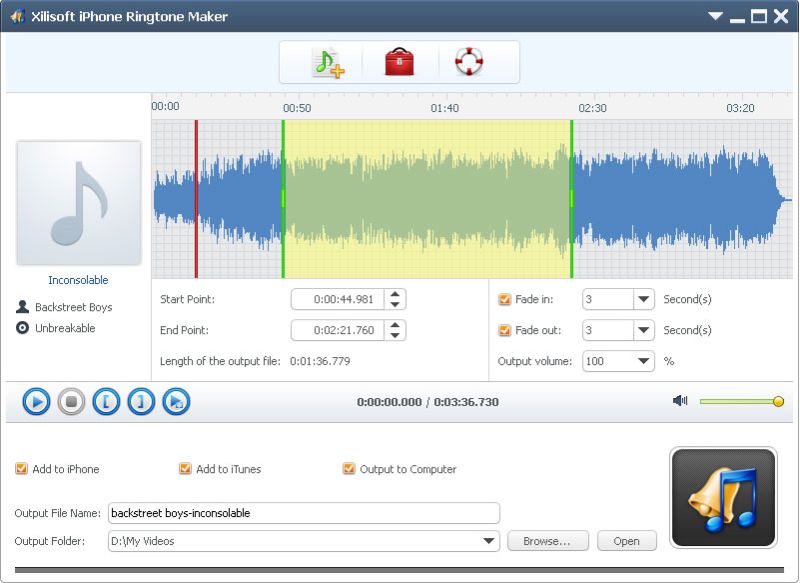 Image Source : m3.xilisoft.com
A popular app which allows you to create unlimited free tunes. The interface is basic but solid and the app is pretty straight forward. You can customize the tune or create your own ringtone which is up to 30 seconds in length.
Ringtone Designer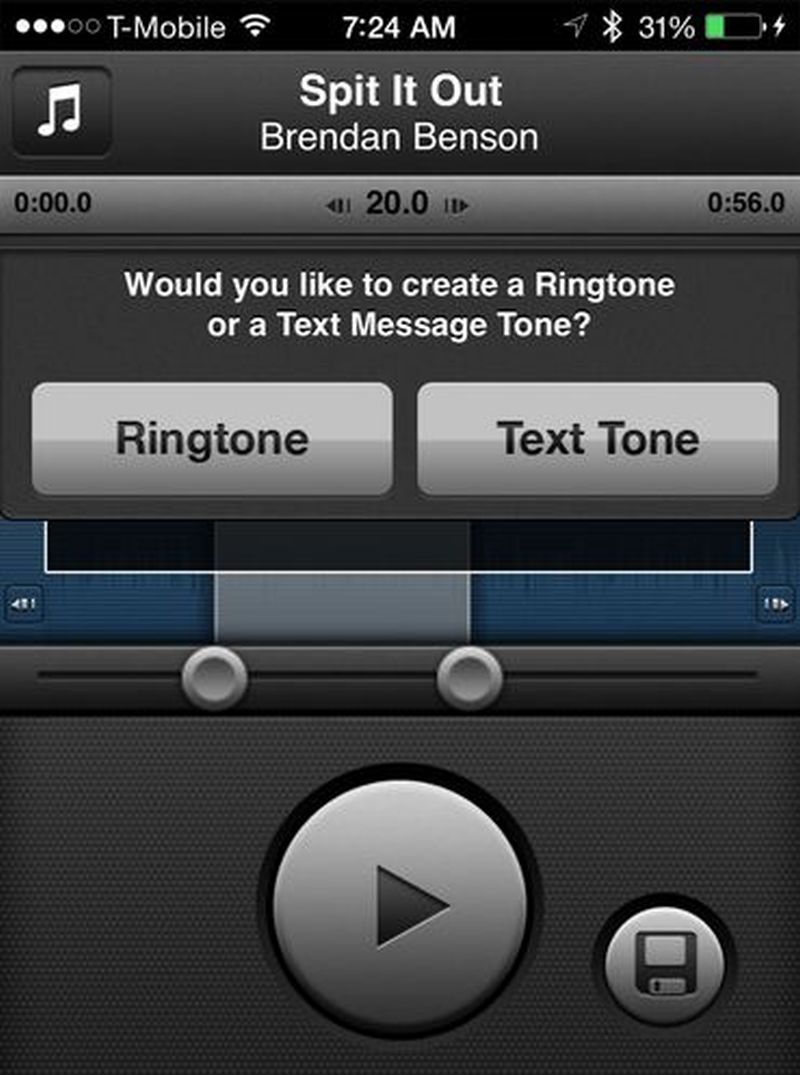 Image Source : cnet1.cbsistatic.com
The basic premise of Ringtone designer is straightforward- choose a song from your library and edit the section you wish to keep. The 30 second length limit favors the creator as he or she can simply choose their favorite bit of the song and copy paste it.  The app is free and has a simple interface. Among iPhone ringtone apps that offer this opportunity, Ringtone designer is different in that you can upgrade to make it a paid app which allows you to create longer tones.
40 seconds and longer
Create Ringtones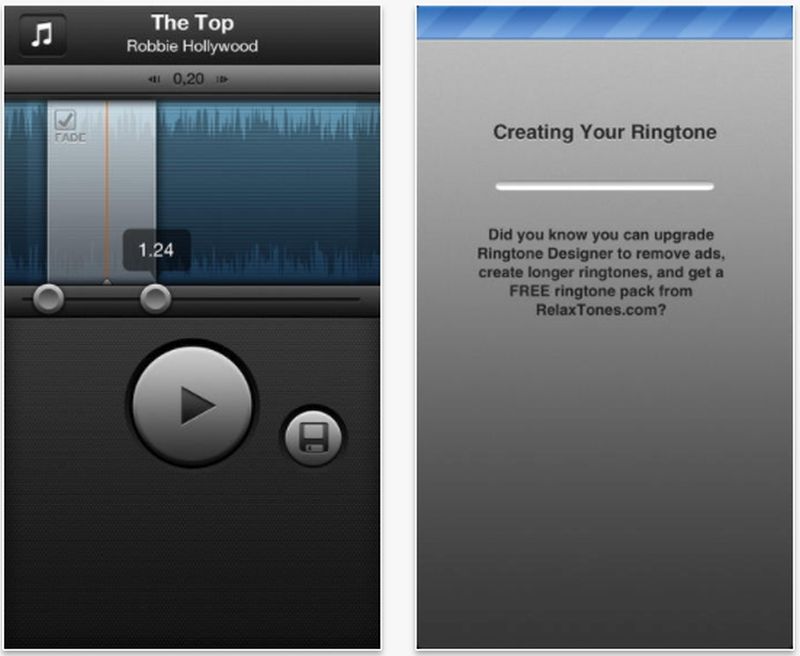 Image Source : tunesgo.wondershare.com
Create Ringtones is another popular app which allows you to make tones 40 seconds and longer but there is a cost, though not much: One dollar. It gives the consumer the ability to create their own custom tune. You can also record your own voice and pass it across this app. The final result can be sent as an e-mail to anyone.
Ringtone Maker
Though there are many ringtone apps without iTunes requirement, Ringtone Maker is one of the most professional, though it is still an independent app. Each tune can last up to 40 seconds and there is a special fade in and out feature available which makes it a more professional sounding final product. One thing to keep in mind is that this app only works on iPhones 3GS or later with a minimum firmware of iOS 4.
Other popular apps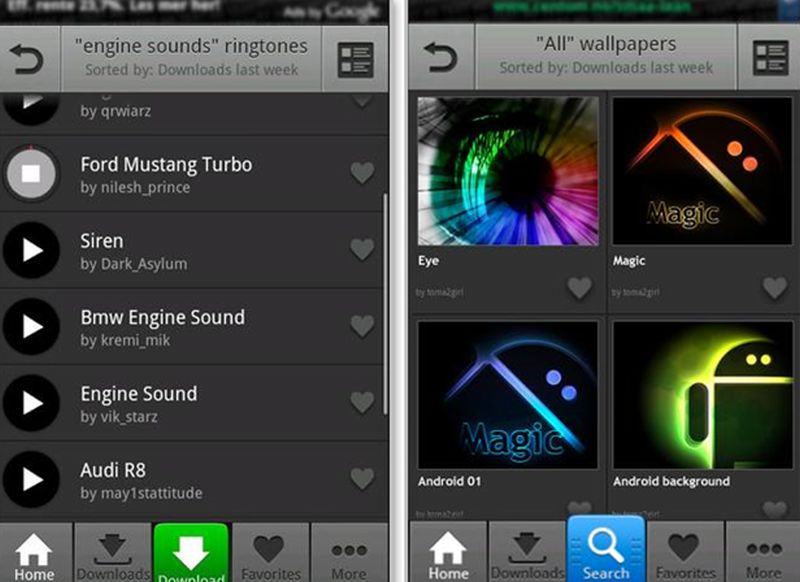 Image Source : cds.technorms.com
Zed.ge Ringtones: This app is unique among ringtone apps for iPhones in that there is no capability to create your own tune. However there is a pretty solid pre-loaded library of available ringtones with a plethora of backgrounds. There are clips of famous pop culture music, quotes from movies and even a catalogue of animal sounds to choose from. What's more- you can rate and review each tune which shows on the main interface.
Ringtones for iPhone
This app gives you the option of choosing your tune from your device's music library and edit them with already existing material in the app. The app's catalogue has a myriad of options to choose from and its non musical sounds are special. Natural sounds and people's voices give its database a unique and one of a kind feel.
Ringtones Free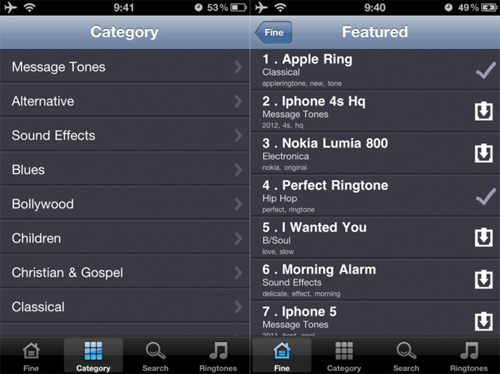 Image Source : media02.hongkiat.com
Unlike other iPhone ring tone apps on this list, Ringtones free actually gives the user the opportunity to share the ringtones they create on their social media feed like twitter and Facebook. This is another unique feature which isn't found anywhere else. Other unique features include pitch adjustments and the ability to play the sound clips backwards.
There are a few more apps which don't require the hassle of iTunes but the only drawback one must keep in mind is that these apps being free ( or very cheap) often have advertisements on their interface which annoy some people. Still, it is a small price to pay in the larger context.