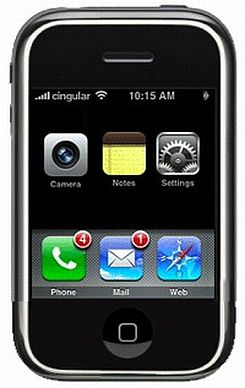 All you proud iPhone owners here is some bad news for you…a Chinese language paper has reported that the Cupertino giant is planning to release the next-gen iPhone as early as September.
Till now, there is no confirmation from the company or Wintek and Quanta, the probable manufacturers of the European iPhone. According to the report, Apple is expected to debut a cheaper $250-$300 model of iPhone and the test models are already ready.
So, is this the iPhone and iPod combo that the world is keenly waiting for? Apple has not released any new version of the iPod since long and nothing can be a better deal than an iPod and iPhone combo.
However, this could just be a rumor as Apple cannot be so silly to debut the next-gen iPhone and spoil the mood of all the iPhone owners who stocked the market place to buy the phone. According to some the next-gen phone should not be out by 2008, Apple also has a reputation of keeping things secret, since the company also kept the Intel version of Mac OS X a secret for five years. Will this reputation of Apple come to the rescue of all the proud iPhone owners is still to be seen.
Via: Wired