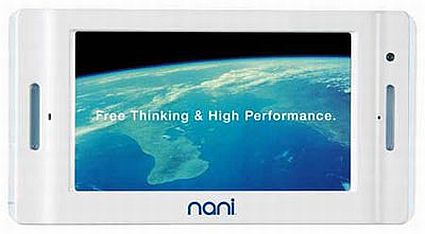 Since the time Apple has launched it's killer iPhone, all phone manufactures have tried to better things with their cell phones. Many phones have come up after the launch of iPhone but only some have really looked to compete with it in the long run.
This one however is different. Named Nani, the phone has not been designed by the big guns of the industry like Sony Ericsson and Nokia but a small Japanese player named Sophia Mobile.
Nani sports a large 4.3-inch touchscreen, video playback at 800 X 400 pixels, a MicroSD card slot (not sure about how much you can put into it), Wi-Fi, a camera and a TV tuner. The phone has the mettle to tackle the iPhone but will it be good even out of Japan is the question to be thought.
Japanese are strong designers of electronic products and Nokia has already learnt a good lesson about the Japanese cell phone industry. But chances that some Japanese manufacturer will be able to wipe out the iPhone culture are bleak; the main reason for this is that iPhone has got an extraordinary hype from all Apple fans and even some high-profile Apple Zombies.
Bringing the iPhone down will take some hard work. Can Nani perform up to expectations or is just another phone trying to compete with the iPhone? Stay tuned for more information.
Via: Sci-Fi