Apples most expensive iPhones yet, the iPhone is a great source of pride for the owner. It comes across as a representation of status and wealth and you might not want to ruin it with a poor phone cover. The phone of the highest price deserves the absolute best; something as extraordinary as the phone itself. So we bring to you a list of some of the best of designer case many of which are more expensive than the phone. The most expensive iPhone cases are as follows:
The list of most expensive iPhone cases:
1.     The line of cases by Gray's Alter Ego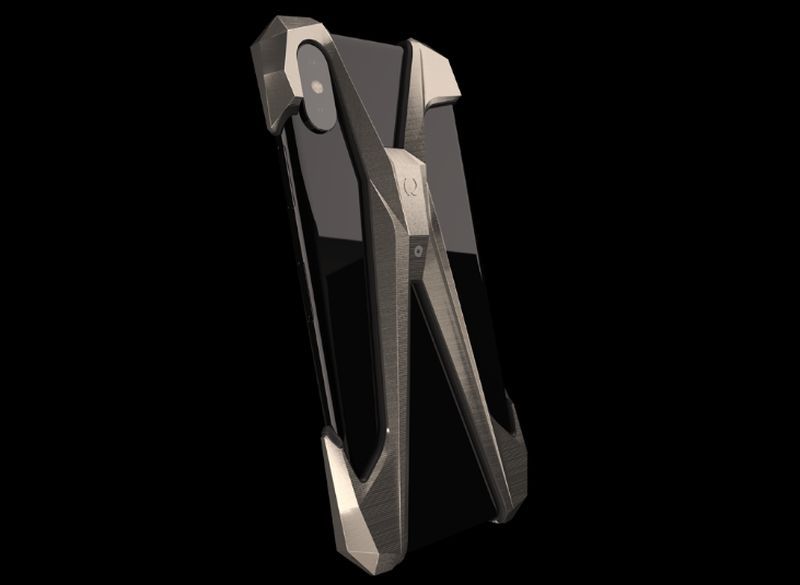 Image Source : cdn.shopify.com
These cases are available in many varieties and provides some exotic options for the buyer. Available in gold, Aurora and Stealth these cases start from a range of $1457. Aerospace grade titanium forms the making material of these cases. The design on these cases has been kept at a bare minimum and a X- shape adorns the back of the phone. It is also equipped with protective covers which protect each corner from drops.
2.     Aurora version of Alter Ego Case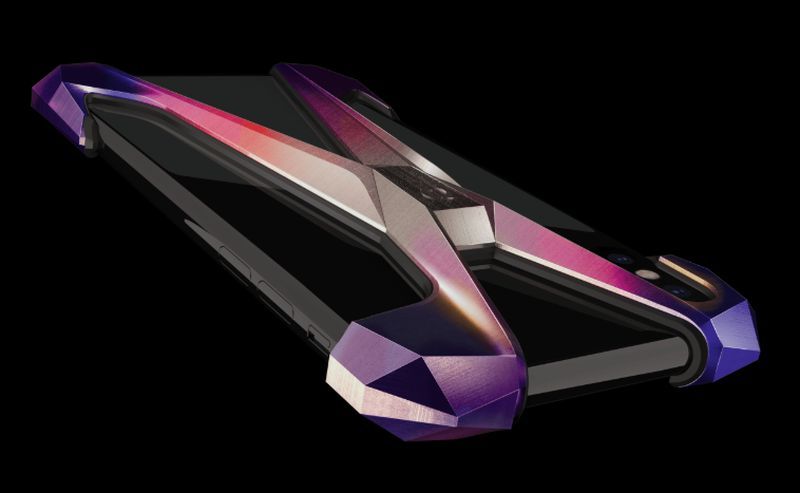 Image Source : cdn.shopify.com
This variant is priced at an expensive $2763 for XS version of the phone and at $3000 for the XS Max. The colourful glamorous finish of this case is courtesy the usage of hand-torched titanium. Each piece of this variant is a display of an unique variety of colours. This designer case would be available at the Gray website and you should hurry as only there are only 100 pieces of Gold Alter Ego cases on sale and 500 pieces of the Stealth edition.
3.     Cases by Gresso
Image Source : cdn.luxatic.com
They are famous for their high end titanium built sunglasses and iPhone cases are their latest creation. For iPhoneXS and XS max they have come up with some of the most expensive iPhone cases. The interior covers of these cases are made from highly resistant and flexible TPU which help in protecting the phone. The outer layer is composed of grade-5 Titanium which adds to its immense strength and makes the products durable.  You can get your hands on all this for $595.
4.     Hadoro's iPhone cases that are more expensive than the phone
Image Source : product-images.barneys.com
What makes the covers made by Hadoro so pricey is the fact that exotic animal skin is what forms the raw material for building these. Stingray to lizard and python to alligators, all kinds of animals feature in their phone cover's list of animals. The costliest of all items at their disposal would provide a pocket pinch of 890 Euro and it is made of alligator skin, known as the Alligator Folio case.
5.     The Louis Vuitton collection
Image Source : luxurylaunches.com
Known as reputed producers of many luxury items, Louis Vuitton is also an expert in the art of making expensive iphone covers. One of their most famously worked cases represent the classic trunks of the company and is one of their most sold items. However there is a minor hitch. This version has no model yet for the iPhone XS Max. You may however expect one soon. This designer case is priced at an exorbitant $1320.
6.     Dolce & Gabbana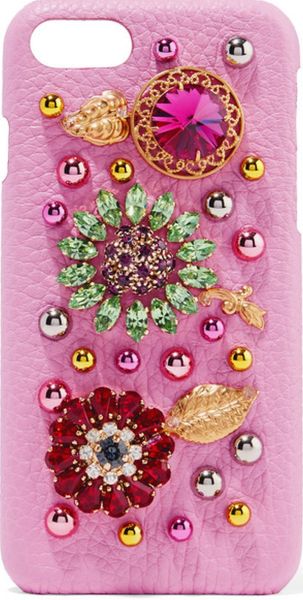 Image Source : cache.net-a-porter.com
This famous and reputed luxury fashion house has also left its mark in the making of beautiful and exotic iPhone cases. Featuring among the most expensive iPhone cases, the best it offers is a leather phone case alongside green rabbit fur bracelet. This product can be yours for a price of $795. The plain logo variant of this comes a little cheaper at $675.
7.     Brikk and Caviar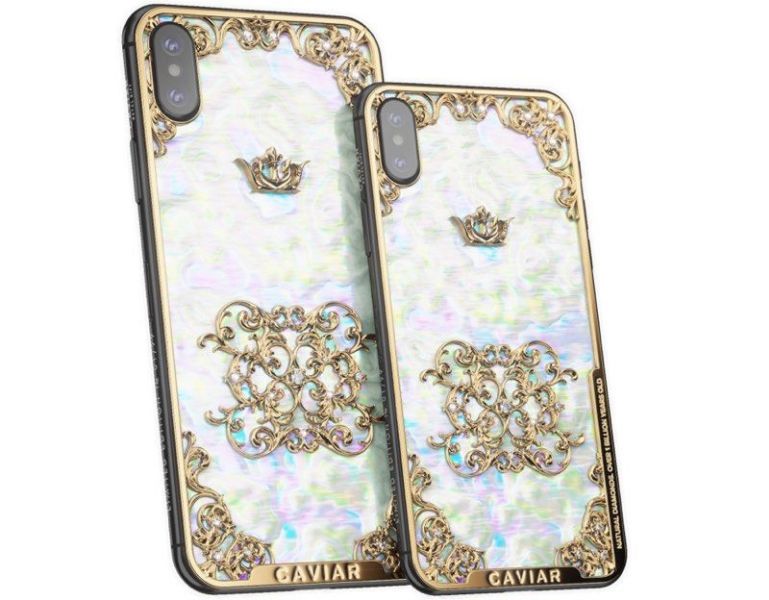 Image Source : cdn.macrumors.com
They have provided the iPhone users with exotic covers for iPhone XS and XS Max and have done well at their job. For these the casings are replaced by some high end materials. For example their designer case that is studded with pearls and diamonds and is plated in gold comes at a price of $5420. The options they provide are of a wide range from diamonds or carbon bodied to the skin of exotic animals like alligators and snakes.
8.     The wonder of Gold Genie company
Image Source : cdn.luxatic.com
They are experts in encasing the iPhone X model in platinum, rose gold or 24 karat gold. They are naturally one of the most expensive iPhone cases and for good reason. They provide you certification to their authenticity of work and also provides the customer with a display box made of cherry oak.
9.     Dragon & Spider's diamond casing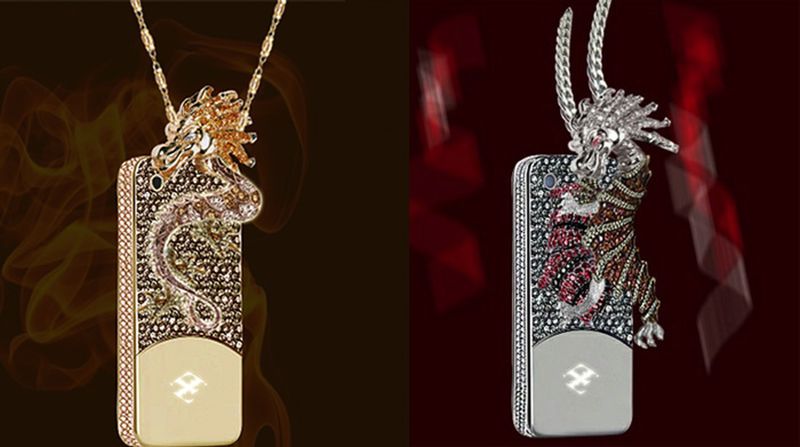 Image Source : mobilefun.co.uk
We end the list with the most expensive case available for you made by this company. They take two months in the making of the product and use 6000 diamonds and a gold engraved logo at the back. This absolute treat is priced at $2.7 million.
Some Weird and Expensive iPhone cases from the past
1. Factron Quattro case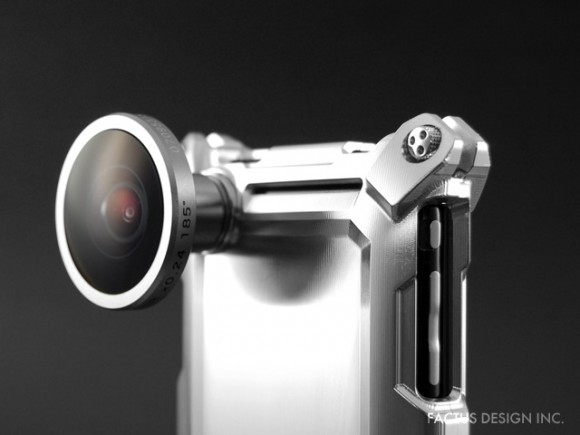 As the ranking suggests, this is the weirdest case that there is. It makes your phone look like a robot. I'm sure you can never place this cover in your pockets. There is a special attachment called the "Fish Eye" before the camera lens which will help you make special shots.
2. Sanwa's Waterproof iPhone Case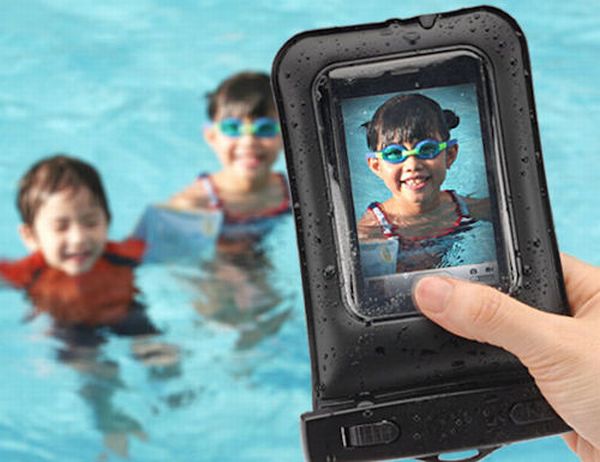 Yeah. You have guessed it correctly. This case is waterproof. What more? It has a special jack place where you can use special waterproof headphones. It is quite big and looks like an antique frame though.
3. iPhone Case by GnG Design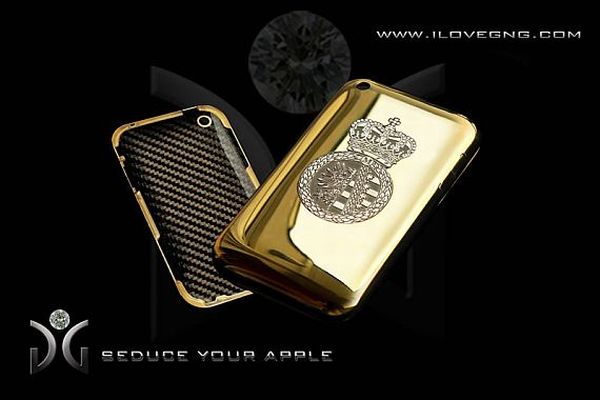 This panel will cost you only around $100,000. Shocked? You should be! This one is made with pure gold and diamonds! Freaky!
4. Case-Mate iPhone recession case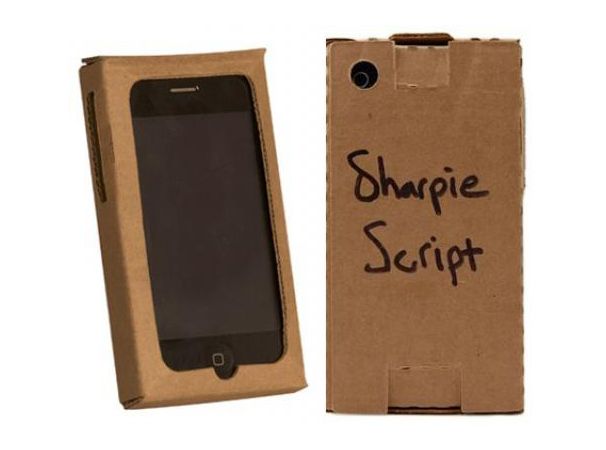 This one is very interesting. This was found during the recession time and it comes at a mere price of $1. But the looks are horrible though!
5. Chocolate Style Silicone case for iPhone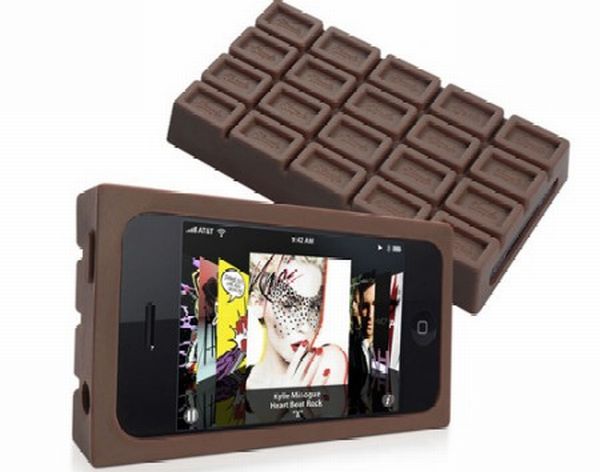 As the name suggests, this cover looks like a bar of chocolate from the behind. It offers safety yes, but come on what are you? 10 years old? The case also affects the form factor of the phone and it is frankly disgusting.
6. Vers iPhone Infocase
This is a cardboard like looking iPhone case. It has features like caller id and time display in it. Still, how will you get the thought to cover a full metallic phone in something that looks like wood? This is just stupid and if you go with it, you are killing the whole look of an iPhone. I wouldn't do it if I were you.
7. EXOvault iPhone cases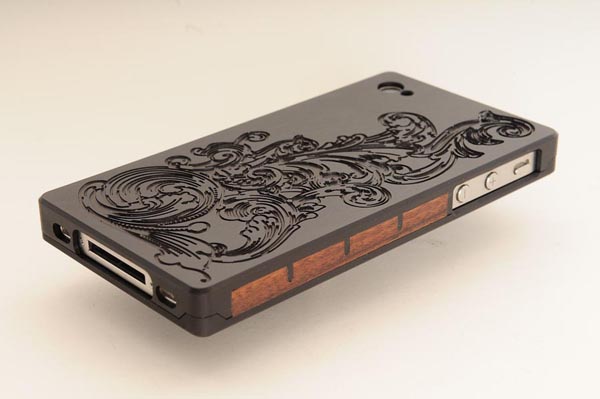 EXOvault produces some weird looking metallic iPhone cases. They claim that these cases are unique and will make you look different even in a big crowd. The statement is true but I don't think that you can take it in a good way. You do not want to look awkward in front a huge crowd and if you use this case, that is bound to happen. It gives a king like appearance to your phone and it is more showing off than looking unique.
8. Mophie Juice Pack Plus iPhone charging case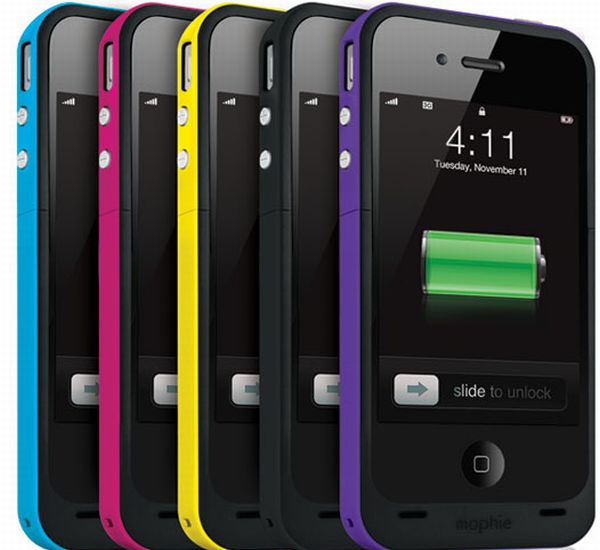 This case is much more than just safety and looks. Yes, it does offer safety and eye-candy colors like pink and green. But the main important use of the Juice pack case is to charge the iPhone. This case will offer over eight hours of battery back-up to your iPhone. But, if you don't want the extra battery, there is no reason why you should prefer this. It is rubbery and it looks like a toy.
9. Tire-tread pattern iPhone case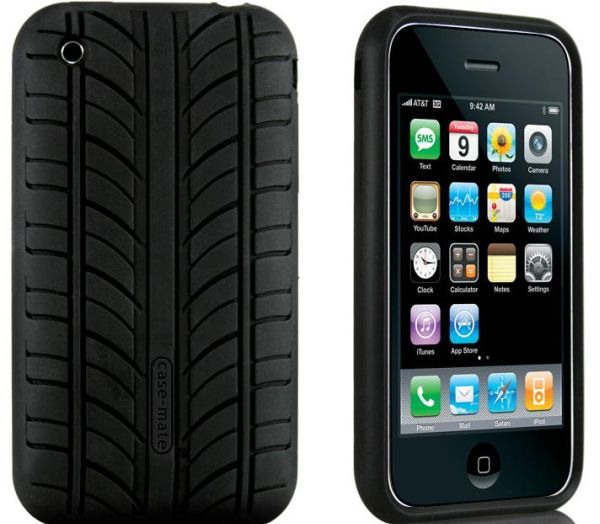 This a simple case used to protect the back of the iPhone. Usually all apple devices have a shiny and bright back cover which is very viable to scratches. This case is very simple but it makes your phone look like a racer toy! An iPhone is a very prestigious device and attaching a case like this to it is absolute disgrace!
10. iBike Rider case for iPhone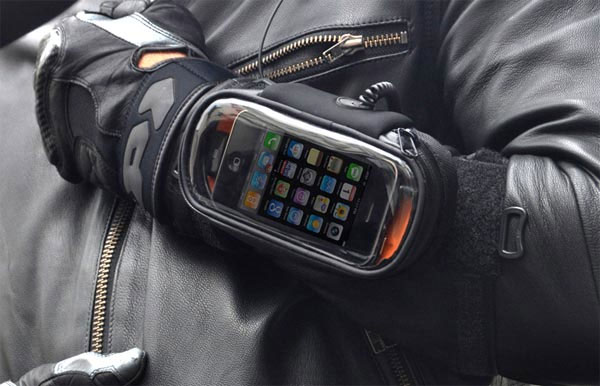 This case is supposed to be intended for bike riders. Imagine yourself as a rider, how would you feel if you get a call when you are cruising at 150 kmph? But, frankly speaking it looks very freaky. You do not want to use this case unless it is absolutely necessary.
11. Ö Case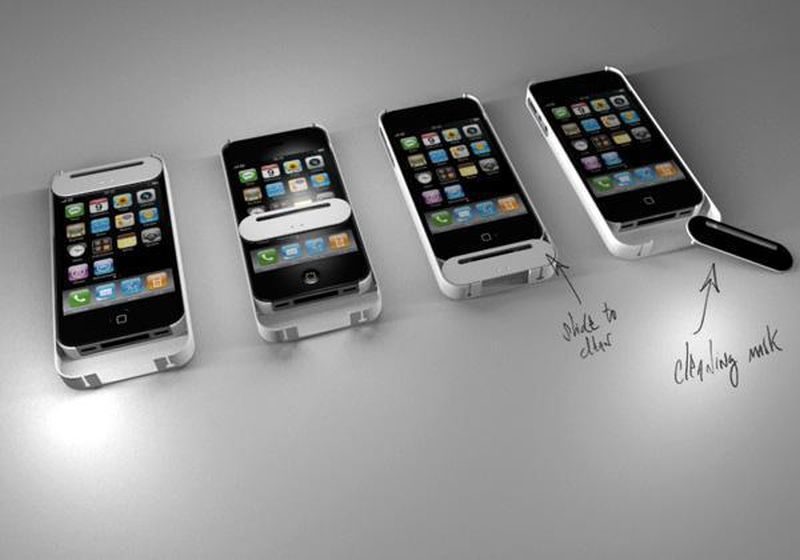 With phones exceedingly switching to touchscreens and glossy bodies, it is no wonder that they become magnets for fingerprints and grime thus making the displays look extremely blotched if not cleaned every now and then. People on the go and in the rush of the hour use napkins or cuffs as makeshift display cleaners wishing that somebody, somewhere, comes up with a better alternative. Löytö Esineiden, a designer, has come up with such a solution. He has come up with what he thinks is the answer to all your worries– the Ö Case, a case specially for iPhones with a screen cleaner built into it.
The Ö Case has a little appendage near the bottom which acts as a screen cleaner when it is dragged up and down the surface of the display. Now bid adieu to the grease and fingerprints that mar the display of your precious iPhone!
In addition to this, the case also has a space below the cleaner. The space where the cleaner rests is hollow and can be used as a place to store your earphone buds when they are not being used. The case itself is not at all sleek but it is quite sturdy and handy. Everything considered, the Ö Case is actually the best possible case out there for iPhones. With its dual functionality—a cleaner that wipes clean the display off of dust and grime and space to keep your earphones—this case is definitely worth the price.
12. Revolver Case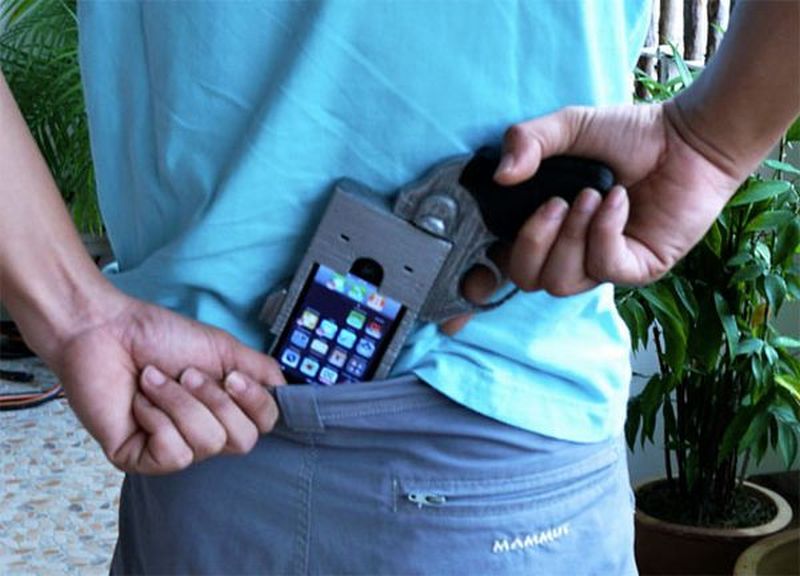 This is a stylish revolver-shaped case in which your iPhone would fit like a bullet. Now, if you always wished to become a techie police person, tuck this case into your trousers and get a feel of being one. It would make you answer your calls with a handsome cop like attitude like. What else you would need to do is take out your gun and fire at criminals with it!
13. Carbon Fiber Case
For those who really have some good money reserved for their iPhone cases, here is a matching carbon fiber iWallet. If you were at a distance of about 30 feet from it, this case would automatically buzz an in-built alarm. You may choose either your iWallet made of carbon fiber or can opt for the one made of a mix of Kevlar and carbon fiber. Any of these could be available to you for around $600. There is also a fiberglass model available for a bargain price close to $300.
14. Bacon Case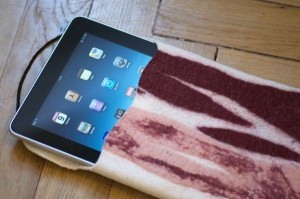 If you find every eatable thing good with bacon, you might also find your iPhone good with this bacon case. Available in different sizes, the bacon case made in Germany is a stylish fabric gadget. You would have to pay around 25 Euros to pocket this tempting bacon.
15. Heineken Case
Etsy has brought you a zany case so you can raise a toast to one of the best brews around the world, the Heineken beer. This iPhone case makes your phone a hit among the young lads and the lively crowds around the town, while it also keeps your phone cozy and secure.
16. Game Boy Case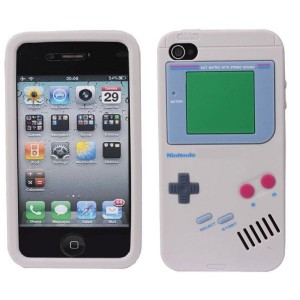 If you still have a lively child inside you who is a fan of Game Boy, you would also surely love the manliest looks of this case that can perfectly dress up your grown-up boy iPhone.
So, select and pick up any of these masculine iPhone cases. And, you'd get that macho look that everyone around would be envy of!
Final words:
An iPhone is something that has become a part of our everyday life. Nowadays everyone has an iPhone. So, if you want to create a difference, you have to accessorize your iPhone. Cases are the best way to give your iPhone an unique look. But if you accessorize in a wrong way, the whole appearance of the phone will be compromised. So, make sure that you choose the proper case.
If you have the money to spare you can definitely get your hands on such cases. They would enhance the magnitude of your phone by leaps and bounds.