Today, with the world's entire knowledge at our fingertips through our smartphone, we have been empowered. Now we can use this ability to do whatever we like. Learning a new language, which traditionally needed one to attend a specialized class or look for a tutor has become fairly easy too. You can now learn it through one of the hundreds of apps available online, some of them available absolutely free. There are various reasons we may want to learn a different language. Maybe you're going for a tour, or you're planning to shift to a different country for work or other purposes. The faster you have a grip on their language, the more pleasant your experience, not to mention the cognitive benefits. Here in this article, let's take a look at some of the most amazing apps available to smoothen that learning curve.
Duolingo: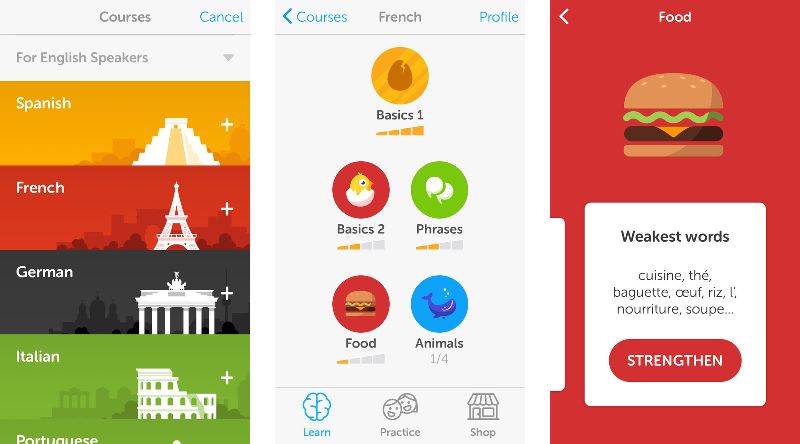 One of the truly best apps available out there is Duolingo. With quite a selection of languages to learn, Duolingo has become immensely popular. And it is free too! Starting off with simple words such as greetings etc. the app gradually teaches how to form complete sentences. Pronunciation is available too. The exercises are option based, voice based, hearing based, text based.
To do a lesson, you have to complete the preceding lesson. Completing lessons provides you with experience points. These experience points can be set as daily and weekly goals with reminders (daily if you like) to help you achieve it.
Many other cool features are available too. The club feature where users can comment or browse through other people's comments on a particular phrase or word from the language is extremely helpful too. Here, learners can interact with other learners as well as native speakers to ask for clarification of any doubts as well as to solve doubts that the learner can help with. Any further comments or questions on this phrase can be sent to you on your email too, so you can stay on the same page as others.
Memrise: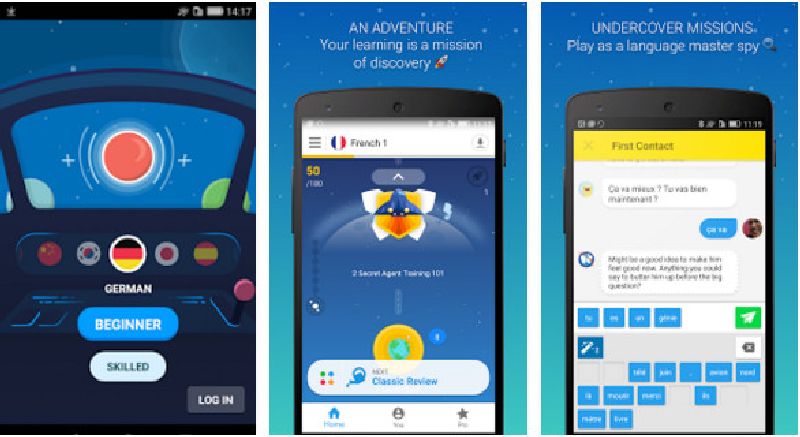 Using Memrise to learn and remember what you have learned has helped many users actually become proficient at languages they took the time to learn. Like Duolingo, Memrise is free too! Memrise is a fun way to practice vocabulary. Its wide community of users is devoted to learning as well as helping others learn languages. There are standardized courses available. But if you are in the mood for some fun, you can also look up vocabulary collections such as "Japanese Naughty Words".
Memes are also used in Memrise as a way to help the user retain words. These memes can get very creative and really be the difference between remembering and forgetting a particularly difficult word from the language. Memrise offers courses for many languages including German, Danish, Chinese, Portuguese and Spanish. There are visual and audio tests available too. The app has in-app purchases which give you the power to download courses to your device so you no longer need internet to learn. You also get access to all courses and video tutorials when you subscribe.
TripLingo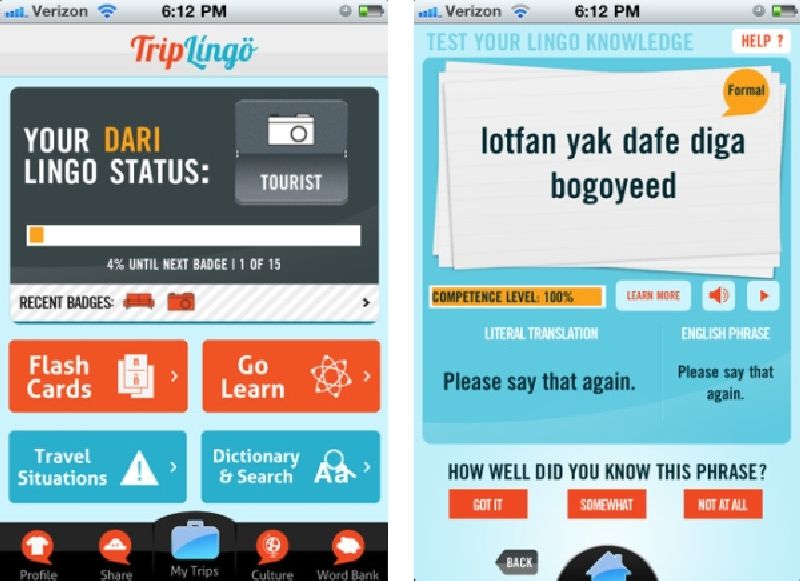 Finally, if you don't have the time or the inclination to go through entire courses on these apps, you can opt for TripLingo. TripLingo was made with the intention to help travelers and tourists have a smoother linguistic experience when visiting other countries. TripLingo will help you absorb more on the trip as it aims to help you speak in a way that you will be understood. It gives you current expressions to use instead of phrases from the textbook.
TripLingo also has the feature to translate spoken text from one language to another but this requires a purchase. Image translator is another feature this app offers. With this, you can scan an image and have the text in the image translated to a language you know. To make you more familiar with the country, this app also gives you cultural history as well as other facts about the country. This not only makes the trip culturally richer, but also a bit more interesting.
Conclusion:
The apps mentioned here obviously are not all there are. You can use these if you are looking for that premium experience to really motivate you to go that extra mile and take that extra effort to learn a new language. The right approach can make all the difference. So which language will you learn?