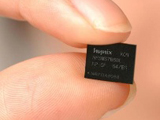 The worlds smallest and the fastest chip has been produced by the Hynix Semiconductor, Inc.
The company said that their 512Megabit mobile DRAM will operate at 200 MHz the fastest any one has ever produced.
This DDR SDRAM processes 1.6Gbytes of data per sec there by making it 1.5 times faster than companies existing DRAM products. This technology will make the third gen. mobiles even faster.
Now Hynix is planning to merge this new mobile DRAM and the NAND flash in a package which will see the mobiles phones loosing some weight and getting slimmer.
Via: Playfuls