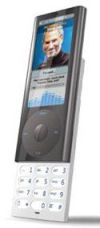 This is not the info that is coming out of Apple's office but it seems Kevin Rose has got some details and is confirming that iPhone is coming in January.
Who Kevin Rose? He is the founder of Digg and he is talking in the video sipping beer as if he has seen the real thing.
What Kevin revealed was:
The iPhone is slated for a January release and will have its own mini OS X.
The set will be both CDMA and GSM compatible and will have two separate batteries one for music player and other for phone with only one charger.

The storage capacity will range from 4 to 8 GB and will probably have slide out key board and touch screen.
The range starts with 4GB that will cost you around $249 and the 8GB model will be priced $449.
Whether this rumor is correct or not, friends we are just weeks away from knowing the truth.