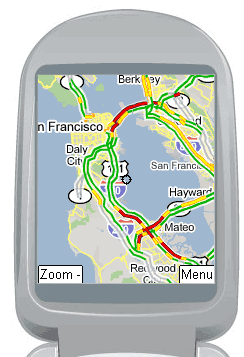 Google, a noun that became a verb, is now synonymous to searching. This time around, Google has launched a location service on mobiles that do not rely on GPS. Google Maps with My Location locates mobile users on the basis of their proximity to the cell towers, it may not be as precise as Global Positioning System but is useful nonetheless for people who do not own GPS-enabled phones.
Even if the cellphone is GPS-enabled, the merits of having Google maps is multifarious. That is because the cell tower feature works better indoors than GPS, it doesn't drain the phone battery as quickly and can bring up a result quicker, as reported by Steve Lee, product manager at Google for the service.
Google is making a database of location queries which explains its theory that results would become more and more accurate as larger number of people begin using it. Google says the cell tower technique will locate the user within about 1000 meters.

In order to use the service, phone owners must download a free application from Google. The application will work on BlackBerry, Windows Mobile and Symbian phones as well as many phones that support Java. A few notable exceptions include the Samsung Blackjack, Moto Q and Palm Treo 700W.
So don't sweat it if you are lost for google is not just limited to finding webpages now, it can help you find restaurants, salons and malls at unfamiliar places. The google maps, I tell you, are really giving tourist guides a run for their money!
Source Credit: PCWorld
Image Credit : Geeknewsnow