So many strange or weird things could come into existence if iPhone becomes the inspiration! If you do not believe us, you may check out following products that actually owe their design inspiration to the legendary iPhone.
Meninos has come up with these thin plywood coasters that have a rubbery bottom and are wrapped in a decal of vinyl. Each coaster displaying a unique app has a length of 3.34 inches and the whole pack includes 16 such coasters worth $60. This furniture protective geek is totally inspired by iPhone.

The iPhone-based coffee table can beat any other coffee table if techies go for selection. Made of cardboard and glue, this table is too cool to have removable icons that pop out and can be used as coasters.
Coming from Australia, each of such iPhone-inspired notebooks contains 100 sheets. Each sheet is designed as a blank iPhone on one side and has gridlines on the other. A set of three Notepods is available for $18 and is perfect to note down any details.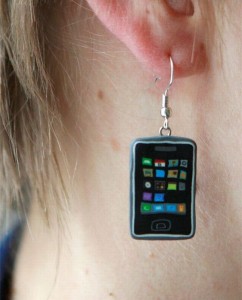 If you wish to flaunt something that resembles an iPhone or if you are too crazy about the device, do it using a set of alternative gadget earrings. By doing a precise slicing and layering of Fimo polymer clay, a Toronto-based artist, Barb Feldman has designed these stylish iPhone earrings.
Designed like a large-sized iPhone, a comfy pillow with even a hidden pocket for your real iPhone is the thing you would like for sure. While you cannot squeeze or press your real iPhone, you can do that to your iCushion.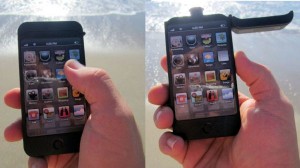 You would not believe iPhones to be flasks, as they cannot look like flasks at all. However, they are real flasks that exactly look like an iPhone. There is a power switch-kind of a button on top of it that actually is the cap of the flask. When you switch it on, it would let the wine come out. Doesn't that sound interesting?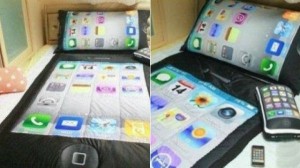 This bed sheet can be a good collection to your iPhone kind of stuff to complement your real iPhone. The bed sheet displays almost every option as an icon on it and gives a techie touch to the room.