If you have suddenly lost your phone charger, or do not have electricity supply at some moment while your phone is running out of battery, you would feel the need of a charger the most. But, you can now be ready for such a situation by keeping an emergency phone charger ready. Here is a description of how you can make your own 40-watt electricity generator that would not only charge your phone in emergency, but can also illuminate some low-power lights in your house. All you would need is a cordless drill and some easily available household materials.
Caution: Since there are no voltage regulators, capacitors or diodes for a proper current flow, you should be ready for the damage and overheating risks involved. Keep a backup of your data too. Once you have decided to go for it, start your work by following the below-mentioned steps.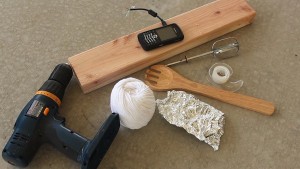 Materials Required: A cordless drill (anything on which you may secure your phone and spin it using your hand, such as a piece of wood), 1 wooden fork (salad fork), 1 mixing beater, a piece of aluminum foil, some yarn and scotch tape, and either a USB charger cable or the half-cut side of an old phone charger that has the piece to be plugged into the phone (this cable will have white-, green-, red- and black-colored wires out of which only red and black are required).
Method:
Step 1: From the cordless drill, remove the battery. Look inside up to find two terminals to battery-power the drill.
Step 2: Fashion the substitute wires connecting to the terminals using the aluminum foil.
Step 3: Now, secure the drill on some material you have chosen, such as a piece of wood. Fasten and hold it down using the yarn. Keep the trigger on and the setting of torque at the highest.
Step 4: Insert and fix the mixing beater into the chuck of the drill. Make sure it's tightened properly and doesn't come out.
Step 5: Through the beater, add-fix the salad fork that would play the role of a crank handle. Then, hook up the cable of the charger, with the red wire on positive lead and the black wire on negative lead. This polarity should be ensured, but you may try reversing it if the charger doesn't work.
Now, your charger is ready to work. Connect your phone to it and just start rotating the end of your drill. This would generate electricity at the points of contact—the faster you rotate the crank, the more power you receive!