Owning a top end smartphone like the iPhone is great. But keeping one safe from scratches and damage during the course of one's daily routine does take a lot of care. To help iPhone owners get the optimum protection for their device, bag and case maker Waterfield has created a range of iPhone-specific jackets and cases that cater to a number of very specific uses. First up is the handy and very practical iPhone wallet. The carry anywhere case is designed like a regular wallet made of naturally-tanned leather though it comes with a special compartment laced with an Ultrasuede divider for holding the iPhone. This allows users to keep their phones safe and at hand. When a user receives a call, they can slide the phone out easily or even talk on the phone right through the case for shorter calls. The iPhone Wallet is priced at $39 and would be available starting September 28.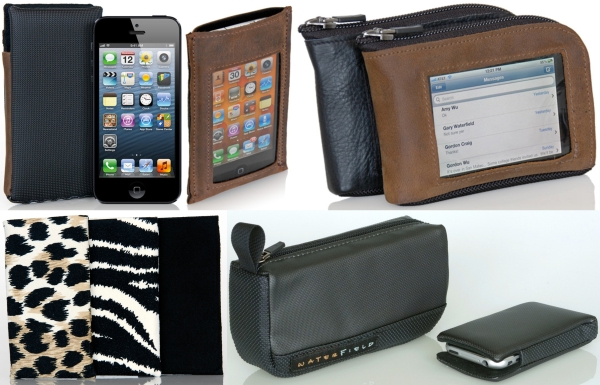 A simpler take on the iPhone Wallet is the iPhone Hint which is basically a leather case for the iPhone though it comes with a sleek stretchable back pocket that is big enough to fit a few banknotes, a credit card or even a driver's license. The iPhone Hint is priced at $25 and would be available starting October 3. For folks who really don't want to take any chances with the protection of their new iPhone 5, Waterfield has created the iPhone 5 Smart Case. The case is designed to keep the iPhone secure and snug with a luxurious padding inside. Less than an inch thin, the iPhone Smart Case will begin shipping October 5. The case retail between $39 and $45 and would be offered in a distressed leather trim and six new colors.
The next stunning and functional case in the range is the iPhone Suede Jacket which comes in an Ultrasuede stretch memory make that offers a custom fit for your phone. The sleeve is offered in classic black as well as cheetah and zebra prints. The case begins shipping on September 28 and retails for $10 to $16. The last case on the list is a great new travel case for the iPhone. The kit features a sleeve for the iPhone as well as a small pouch that can neatly house all the phone's accessories! The iPhone Travel case retails between $35 and $37 and would be available on September 28. All the cases in the line are designed for the iPhone 4S and the iPhone 5 and are currently available for pre-order.
Via: Gear Diary