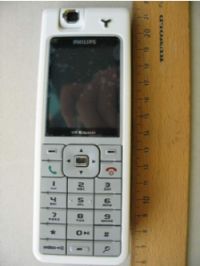 The VoIP 321 cordless phone will not be the only one from the Phillips stable but it seems that they are ready with VP6500 and VP6000 which are in docks of FCC for the clearance before launch.
Both the phones will have a 2.5-inch LCD screen capable of displaying 65000 colors. They also have a 240-degree rotating VGA camera.
The 6500 is also likely to have a TV out port so that the phone can be connected to the TV. The phone will be compatible to all the WEP, WAP and WPA2 encryptions.
We don't know the launch date as yet.
Via: Engadget