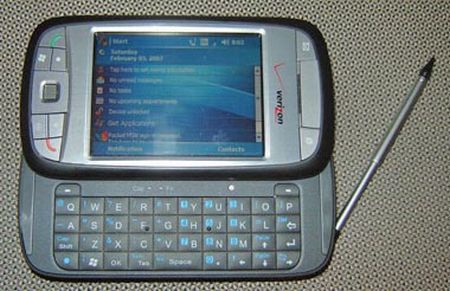 With Verizon trying to revolutionize network technology, it's coming up with some great mobile phones lately. The latest phone released to the market is the Verizon XV6800. It looks more like mini me version of a notebook computer, but extremely portable in nature.
There was much controversy regarding the release of this particular Verizon handset. Folks were not quite sure whether the mobile is going to go for production or not. As of now you can pre-order the phone for a whopping $249. I think after iPhone, this Verizon gadget is making the headlines.

Finally, the long wait for XV6800 is over. The announcement of the the Verizon phone release was made in tandem with the Samsung SCG-i760. The neat Verizon phone opens a new chapter in the mobile phone industry.
It's sophisticated design, 2.0 mega pixels camera/ camcorder , QWERTY keyboard, as well as the USB ports pretty much make this mobile a personal computer. You can even get blue tooth along with it. The speakers and headsets can convert this baby to an office on the road. All I know is that my next 250 bucks is going to go towards this mini computer. At least I will be able to check my emails and surf the web on the run.
Image Credit: Flickr