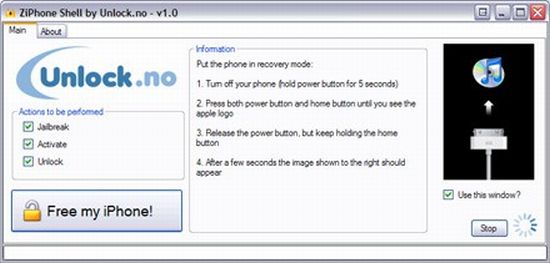 I am not yet entirely sure how it works, but iPhone hacker Zibri has just released a new application that is called ZiPhone. He claims that this application can jailbreak any version of iPhone, including the new 1.1.3 phones that you remove right out your new packaging. No messy downgrades and baseband changes to unlock these phone, says the hacker. I have not personally tested it myself, but I am sure there will be no dearth of people out there willing to try it out.
While I have not tried this method out myself, my research came across people who have. One user of the Iphone downloaded ZiPhone, unpacked in on the desktop, then executed a command prompt, went to the desktop folder (typing 'cd Desktop'), then went to the ZiPhone folder (typing 'cd ziphone'), and executed it. The user was given instructions on how to put the iPhone on recovery mode. He then turned the iPhone off and while keeping the home button pressed, he turned it on again, until the connect to iTunes screen appeared on it.
After some time, the iPhone rebooted, and it was unlocked. The user was then able to make and receive calls. The user then updated the version to 1.1.3 with iTunes. It rebooted and was locked and jailed, that means that it was in the "Emergency only" screen, rendering the sim card inactive. The phone was then put in recovery mode and after a short wait, the iPhone rebooted. The phone was jailbreaked, meaning that calls were not enabled although the phone could be used. The software apparently works like a charm.
So, if you have an iPhone and you are eager to unlock, this may be your chance.
Zibri's Blog Via translate.google