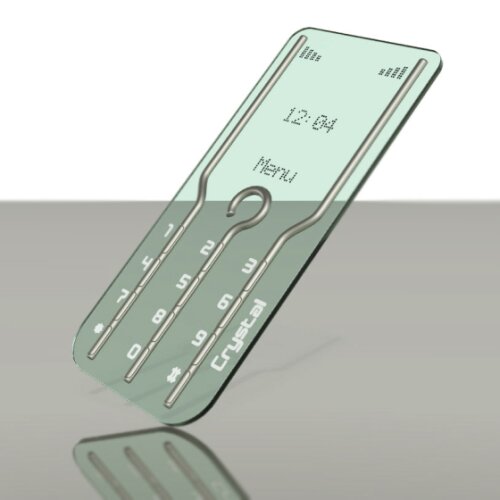 Concept phones are always fascinating as they portray futuristic visions from distinct perspectives. Most of the amazing phones that are available currently would have been a concept, a few years ago. Technologies could also redefine the concept's value. Due to the availability of varieties of handsets, most buyers take sophisticated technologies for granted, without realizing the hard work underwent by the creators and the manufacturers.
New age designers have advanced further by imagining transparent mobile phones. However, the very feature, i.e. transparency, has been proposed just as concept at the moment.
Transparent Concept Phone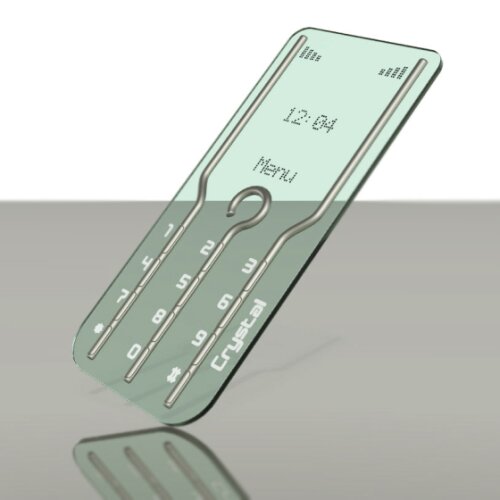 Indubitably, majority of people wouldn't agree to this concept on the first glance. The idea is highly advanced, which makes it unbelievable for viewers. Transparent concept phone is a fully transparent handset that has been designed with a basic LCD display. Its extremely small dimensions and completely see-through body make it unbelievable as most people search for a battery panel or a memory card slot as in conventional mobile phones. If technology advances behind our current knowledge, there are chances to witness these kind of mobile phones in the local stores.
Nokia Transparent Phone Concept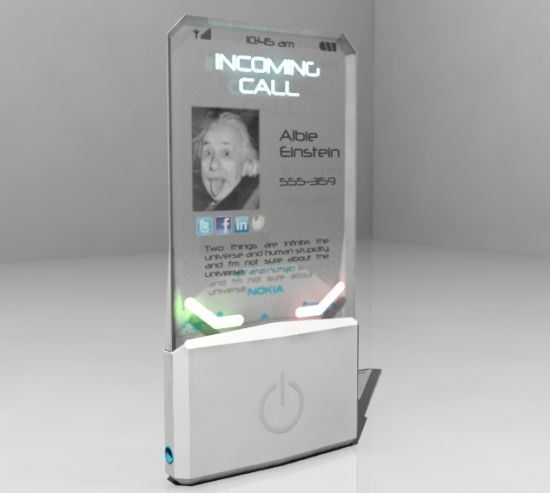 Obviously, we cannot miss a transparent concept from the giant manufacturer, Nokia. This concept's image itself speaks about the phone. This concept is destined to woo the younger generations with sophisticated features that could be found in a conventional smartphone. To be precise, features like 5 MP camera, touchscreen, LED support, etc., are presumed on this handset. If everything goes in favor of the manufacturer, we may soon see its production versions.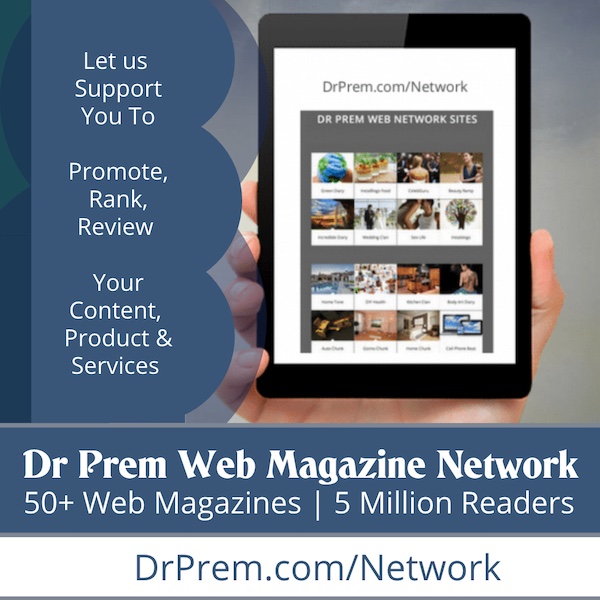 Samsung Aqua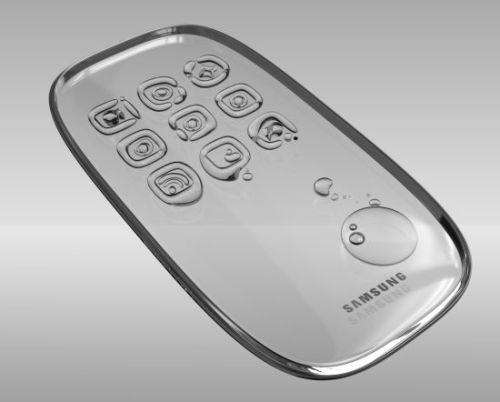 Samsung Aqua is one of the most innovative concepts proposed with a transparent theme. In fact, this handset is conceptualized with a water-based theme. Along with a transparent body, this concept uses GUI. On the first glance, this GUI seems to withhold water droplets in them; but, in reality its impression is created by the AMOLED display. The most laudable feature on this handset is its deletion feature. To be literal, users can effortlessly delete icons by rubbing the area with their fingers. One would hardly believe this concept due its sleek design.
Cool weather cell phone

Known as 'Window Phone', this concept is an intelligent handset that can keep the users updated with accurate weather conditions through mind-boggling ways. Along with a transparent body, this concept changes its outlook according to the prevailing climate. For instance, when a heavy rain is predicted, the concept's body forms droplets of water as you might see on the glass panels when it rains. On a foggy day, the concept depicts a misty ambiance. If these features don't satisfy you, here's more to come. When you blow your breath on the handset, it immediately moves into a hand-writing mode which will definitely stupefy you on the first glance itself.
Thru Phone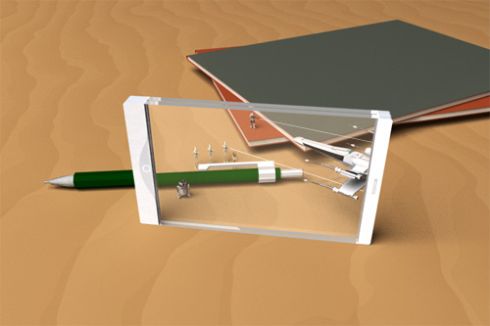 Thru phone concept will enthrall those mobile admirers further who keep wondering about transparent handsets. This concept seamlessly blends the transparency of the body with its sliding design. One of them will bear the display unit and the other will engulf the virtual keyboard. To accentuate further, this handset generates 3d views of the objects behind it, when the sliding parts are brought one over the other.
Double Pane LCD Screens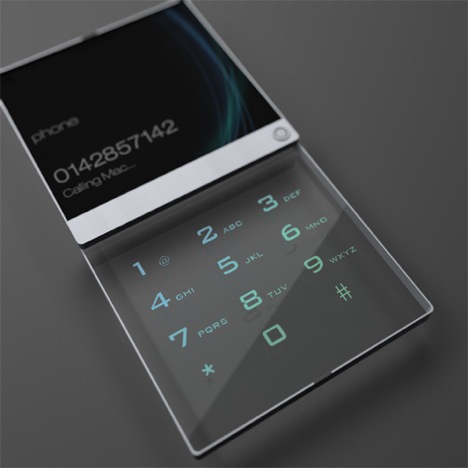 Double Pane LCD screens concept is proposed by Mac Funamizu, the same designer who created the 'Thru phone' concept, described earlier. As the name implies, this concept utilizes layering techniques to bring a three-dimensional effect for the visual objects displayed on its screen. If imparted successfully, this 3d ambiance could be enjoyed with other features as well.
Transparent concept by Aston Martin and Mobiado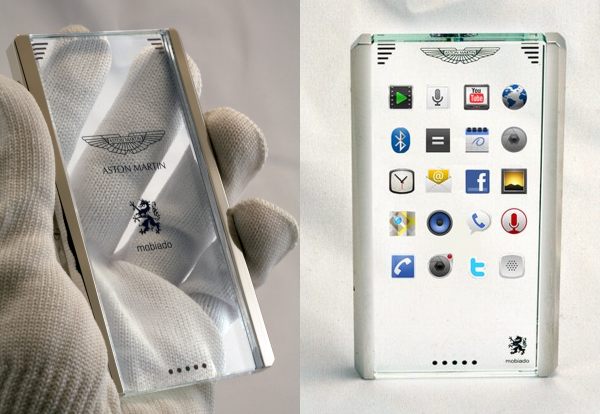 The renowned luxury car maker, Aston Martin and Canada based mobile phone manufacturer, Mobiado have partnered together to build sophisticated handsets. Referred as CPT002, this handset has transparent body with a capacitive touchscreen. As the manufacturer has proposed its battery, SIM card and other parts to be present on the side of this handset, it makes this futuristic concept to be believable. In addition, this concept has got a number of mind-blowing features. Moreover, the creators are planning to integrate this handset with Aston Martin cars.
Second Life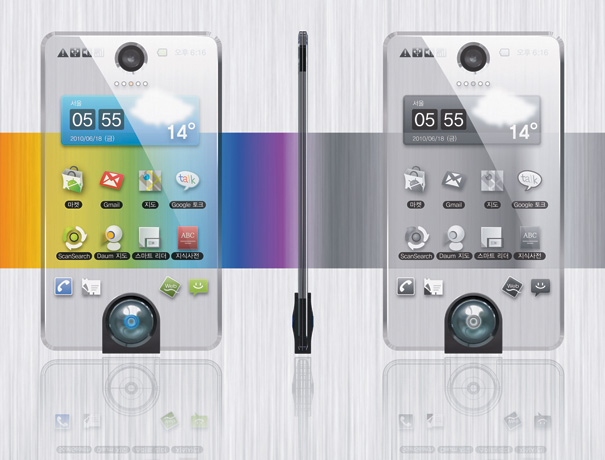 Second life is also a transparent mobile phone which is aimed at minimizing the power consumption. This concept's designers have proposed to use a sheet of transparent material. Users will be notified about the battery's charge level, often. In addition, this technique is estimated to be environmentally friendly as well.
Flexible concept from Nokia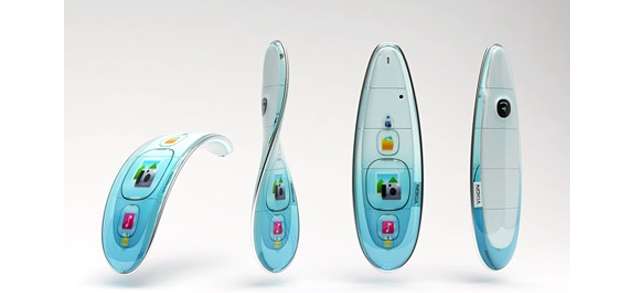 This concept has got more sophistication than transparency and style quotients. With a flexible design, it resembles a human form that could literally recognize the user's mood. If produced successfully, this concept could deliver an unseen mobile experience. Instead of the conventional pressing methods, one would twist, shake and bend this handset to use its features.