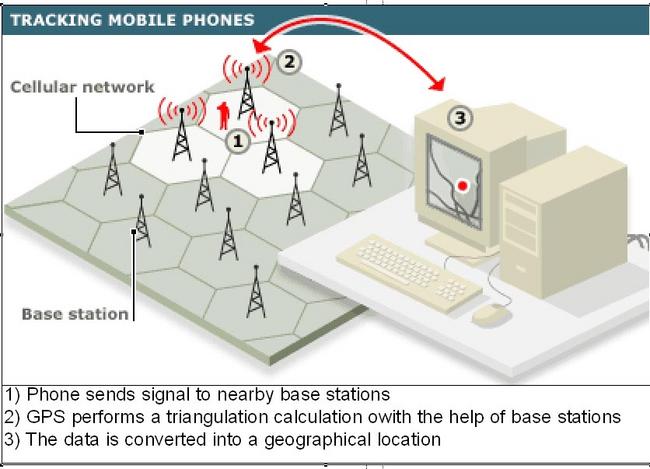 Cellphone information is considered private. Tracking unwanted calls from unknown mobile numbers is not always easy and not always free too as it is in the case of tracking basic phone numbers. The reason, basically, is that master directory for cell phone numbers do not generally exist. Each service provider develops its own database of related information. This information is not publicly shared. Reverse phone companies, however, can buy this information for a price. Cell tracking solutions offered online use GPS satellite techniques and triangulation (multilateration) based on phone towers as an option but these are not free. The reason is plain – it takes some money and pains to purchase, compile information into one big directory and regularly update it too. And there is the possibility of one getting scammed in the name of phone tracking service.
The Basics:
Mobile positioning discloses the actual coordinates of a mobile phone bearer. It is a technology used by telecom companies to locate the approximate place of a mobile phone and its bearer. While it can often help the bearer find assistance when in a challenging situation, Location-based services (LBS) also allow people to trace of the activities of a friend or spouse. Myriads of softwares and built-in applications and plenty of companies offer technology to do so, legally and with the phone user's knowledge. Free applications like Loopt, Jaiku, BrightKite, Mologogo, Socialight, Plazes and Yahoo's Fire Eagle too have been popularly used ones. Software program like spybubble also has seen users.
The Technique:
Talking about the technique, one knows that these can be divided into network-based, handset-based, SIM-based and hybrid classes. All of these work on the basic thought that cell towers listen for signals sent from a phone which is being used for routing a call. With that starts the process of finding the most suitable tower to communicate with the active phone. The antenna towers can monitor this signal even as the mobile keeps changing its location for roaming it to an appropriate tower. Then starts a process of comparison and computation. The relative signal strength from multiple antenna towers provides a general idea of the location of a particular phone.
Sustained Monitoring:
Available technologies allow one to keep tab on someone's mobile even if the user changes his SIM card. The phone is identified in two manners. While connecting to the phone network, the SIM sends a unique International Mobile Subscriber Identity or IMSI number. This consists of the user's country code, network code and the telephone number. Then International Mobile Equipment Identity or IMEI is used to describe the handset – a constant even when the SIM is changed. These numbers have to be transmitted by mobile devices to make a call everytime.
Now, phones altering bases have to regularly check in to some local base station. With the mobile identified, it is not hard to locate it anymore.