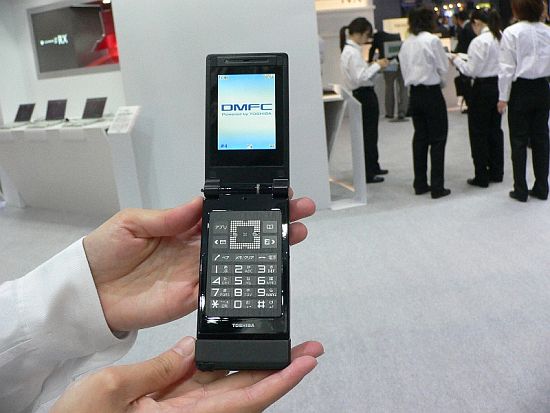 While we have been hearing about fuel-cell powered cell phones for quite sometime as an environment-friendly alternative to the lithium-ion battery, finally it seems likely that Toshiba will be launching its version of the same. This environment friendly methanol fuel cell – DMFC, as demonstrated in the CEATEC Japan 2008 conference, will not only be eco-friendly but combining with a secondary battery, it will allow the user more talk time and standby time and the promise of a longer battery life. The methanol stored in the fuel cell is capable of juicing up the cell phone 15 times after which it needs to be replaced. Priced at $0.94, we could expect to see the Toshiba fuel cell packed in the cell phone sometime next year.

What others are saying? Engadget's Joseph L. Flatley writes
Toshiba continues to tease us with its prototype liquid fuel cell-powered gadgets… you can check out a direct methanol fuel cell (DMFC) that's been crammed inside a cell phone, lending it a robust six hours of talk time (compared to the paltry three or four hours of a traditional battery).
via:GreenUpgrader