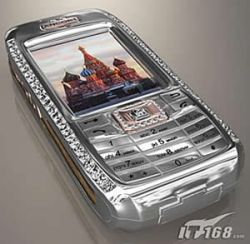 The Handcellphone blog has made the list of top five most expensive cell phones available in the market. The list re-confirms the saying that "luxury does not come cheap".
The list has pretty expensive phones for the uber-rich who would like to make a statement and starts with the 'Diamond Crypto Smartphone' which is tagged at $1.3 million.
The phone is the creation of Peter Aloisson and the phone has all platinum body with 50 diamonds engraved, out of which 10 are rare blue diamond.
The phone features a high resolution TFT display and is capable of sending and receiving MMS and e-mails. It supports WAR and JAVA and also has media player.

The second is 'Le Million De La Nuit' with the price tag of $1 million. The phone is manufactured by GoldVish and comes in 15 different designs and off course is engrossed by diamonds and has 140g of gold on its body.
The rest of list of uber expensive phone is
2) Motorola SLVR L7 Diamond Mobile Phone
3) Nokia Vertu Luxury Phone
The last one is inexpensive compared to the price tags of the rest of the phones in the list.
For more info check out the link.
Via: Handcellphone