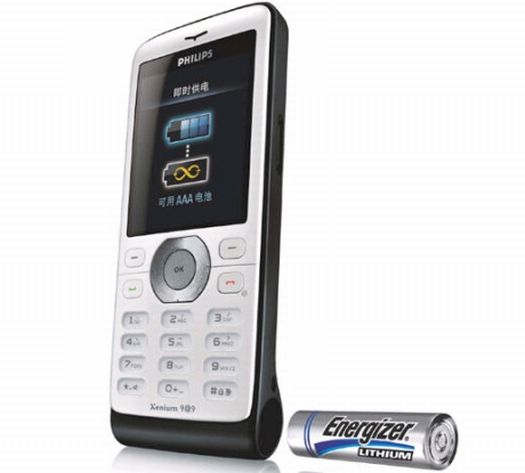 We all know about the Philips Xenium line of phones with long operating times. Philips has decided to augment this one a step further and added an option of using a regular AAA battery in addition to the phones battery pack. Their new handset, Philips Xenium [email protected], again pushes the boundary of power technologies in mobile phones. This time it's not the durability of the phones. It's a possibility to use standard AAA batteries to operate the device. It was first spotted during Mobile World Congress in Barcelona.
The technology sources from an Israeli firm Techtium, and it's called Backupower. The [email protected] is the first phone to have it inside. Battery firm Energizer is involved as well. It has a standard lithium ion rechargeable battery, but it has the option to put the AAA – alkaline or NiMH rechargeable – battery in the phone's easily accessible cavity, and it'll offer three hours of extended talktime. If your lithium ion battery goes dead, the backup battery kicks in, charges up the lithium ion battery, so the phone can be up and running all the way.
It is the first cellphone actually accomplish this; and though it increases its size, those extra hours are going to be useful for people who spend time away from power sockets. The phone is expected in stores by April 2008. It'll be fun going into Carphone Warehouse asking for that.
Source: Techchee