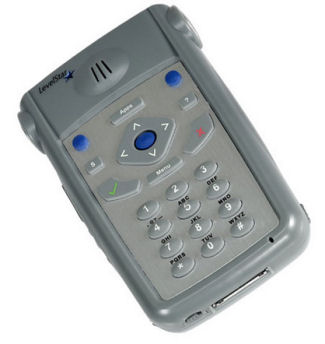 Levelstar has extended its reach by unveiling this gadget for those who cannot see. The Icon Mobile Manager is designed especially for the visually impaired. This basicallyy means no display screen, after all what's the use? Absence of screen, however, is no barrier to cram up a cell phone with all the essential features. Thus, except a screen, this phone has virtually everything that you could hope for in a PDA.
The Icon Mobile Manger PDA is loaded with features and number of them are sound-driven applications such as an address book, word processor, email client, web browser, music player, voice recorder, clock, stopwatch, a book and periodical player, etc. All these have been incorporated keeping in mind the segment that this phone targets. Even the dial-pad buttons are made large and easy-to-use.
Although catering to one segment in particular, Levelstar has managed to strike a chord with other communities as well with a wide array of features that it offers with the phone. This includes support for the latest in wireless technology like Wi-Fi and Bluetooth. A Linux-based OS powers all these features.
The phone has a 30GB drive and also an expansion SD slot. You can listen to your favorite music, applications and other recordings through an in-built speaker or you could even use earphones or a headphone jack for more privacy.
The blind would find the Icon Mobile Manager quite comfortable to use with an optional compact docking station that can have a QWERTY or a Braille keyboard with an Ethernet connection and a dial-up modem.
All these come at a price though. The phone per se is not economical and costs $1,395.
Via: slipperybrick