One thought from you is perhaps enough for the freaky Chinese to step deeper into the radical concept market! Concepts have taken a major leap in the expanding cellphone market – a concept phone – offers the designer to break the orthodox shackles.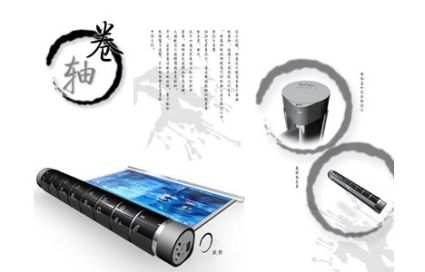 This handset from Yun Liang may give you the nostalgic feeling of the mystical Chinese scroll paintings – a design that probably brainwaves this latest concept. Reminiscent of the painting that must be unruffled before viewing; the Scroll cellphone too requires the scroll to be rolled out in-order to access data – though, numerical key functions can be performed otherwise. This concept also brings fresh the Roll phone by Tao Ma that again is a rollable phone with a rollable display.
Yes, the concept looks cool n unique – but maybe a thorn in the flesh to work with. It makes you a moron – trying to figure out the engraved mysteries that the designer has left for you.
When not in use, the Scroll phone display neatly rolls up in a tube with the numerical functions remaining out for display, running along the exterior. The liberty with the designers indicates that concepts like the Scroll phone can surely be a certainty in the near future.