First iPhone kiosk spotted in Seattle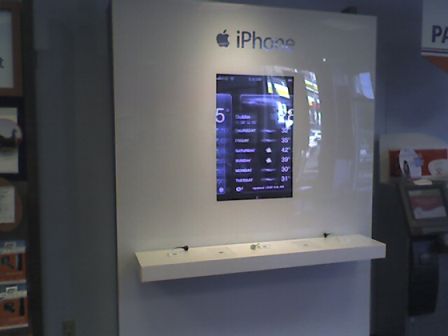 The most awaited gadget of the year is the iPhone. Agreed. If not then you're probably living in fantasies of your own, faraway from this mundane world. Anyways, you're condemned to a lifetime of ignorance.
Frankly, anything from the Apple's stables has always generated a lot of interest and even the sighting of an iPhone kiosk doesn't fail to create hype. Like this one, sighted at an Apple store in Seattle. Apparently, this is the first picture of an iPhone display. The display has a looping video of the iPhone user interface and as you can make out from the picture, there are docks to charge your iPods as well.
The iPhone is all set to hit the markets by 29th June. This phone incorporates never-before-seen features, for instance call dial by just tapping names or numbers in the address book, favorite's list, or call logs. And additionally, like email, it helps you select and listen to your voicemail messages in any order.
Via: techcrunch