There will come a time in our civilization when everything that we use will be environmentally friendly. We have been able to change a lot of our consumption patterns so as not to harm the earth's capacity of generating resources.  Our clothes are green, our appliances are also green, and we monitor our energy usage to prevent unnecessary wastage. So can't our smart phones be eco friendly as well?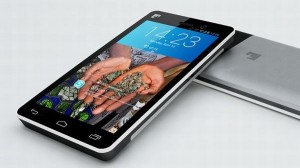 An Eco-Friendly Smart Phone:
The smart phone market recently witnessed the launch of the new Blackberry, the iOS 7 and the new iPhones. But a Dutch entrepreneur based in Soho, London had taken over environmentalists and tech geeks alike by creating an outstanding smart phone-the Fairphone. What's unique about the phone is that it is made using raw materials from mines that are conflict free. This will ensure that those manufacturing the phone are paid fair wages for their labor. The team building the Fairphone came up with the idea as they wanted a smart phone economy that was fair, apart from sourcing their materials from mines that have fair labor practices, they also have added to the phone an operating system that can be modified by anyone.
Specifications of the Fair-Phone:
The phone weighs around 170 grams and feels comfortable to hold; the external body of the phone is made out of recycled polycarbonate and does not look like its premium counterparts. But despite this drawback, the Fairphone sports a 4.3 inch glass Dragon tail screen, so it is quite close to the Samsung S3 and the iPhone 5. So it's great for a person with smaller hands to operate the phone as you can navigate the entire screen using your thumb. Prices at 325 Euros, it also gives you more screen space for your money.
The Fairphone has 16GB of on board memory which can to expanded via a micro SD card to 64 GB, so you more than enough space for all your applications, music, videos and photos. Even the battery is removable, therefore expanding the devices lifespan. Another more useful benefit of the phone is that it has two SIM slots, which a lot of people want these days so that they can combine work and personal contacts. You can receive calls from both SIM cards but your internet connection will only work on one SIM card. Another obvious disadvantage is that there are no 4G or NFC connections. You won't get a charger, headphones with the phone as the company feels that it will be a waste as most of the buyers will already have these accessories.