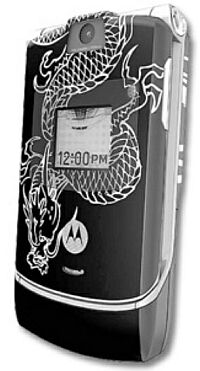 Motorola is leaving no stone unturned to rule the cell phone market. The latest buzz all around is the tattooed Motorola handsets. Motorola is planning to reveal its RAZR handsets depicting tattoos by the end of this year.
The man behind the tattoo designs is Miami ink famed Ami James. He has designed a variety of tattoos for the Motorola handsets. Well, Motorola has till today stuck to the dragon designed tattoo that appeared on a RIZR phone few days back. There is no news that whether the tattoos will appear on RIZR line-up or not.
The tattoo designs will indubitably add a zing to the sleek and sexy Motorola RAZR handsets. Good move Motorola!
Via: Techsavvy