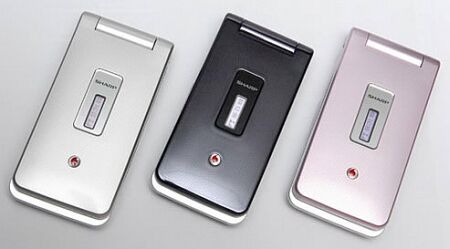 It's not always that only the big leaders in the mobile arena have the best for the customers. Who could think that Sharp (not so popular in mobile market) will unveil such a lustrous and exquisite cell phone like the new GX633 that is designed using metal vapour deposition technology.
One of the most prominent feature of Sharp GX633 is its 72×12 resolution STN screen and a crisp clear internal ASV screen boasting 320×240 resolution and 160-degrees viewing angle. The color and looks somewhat remind me of that trendy Samsung SGH-E870 girl's phone.
Other key specifications include 1.1-MP video conferencing web cam, MP3 player, micro-SD expansion slot, 3D games support and Bluetooth connectivity. Its 2.0-megapixel camera caught my attention, but to my surprise, it doesn't feature auto focus.
No words on pricing and availability of Sharp GX633.
Via: HandCellPhone