Designer Siwei Liu AKA Leon has created something special, this time for the specially-abled. The Tactility is a new and very utmost user-friendly mobile phone concept for visually-impaired people. By making this innovative phone Leon has proved that technology does not have boundaries. Although, there are other mobile concepts for the visually challenged, but Leon's Tactility mobile phone for visually impaired is for sure something extraordinary.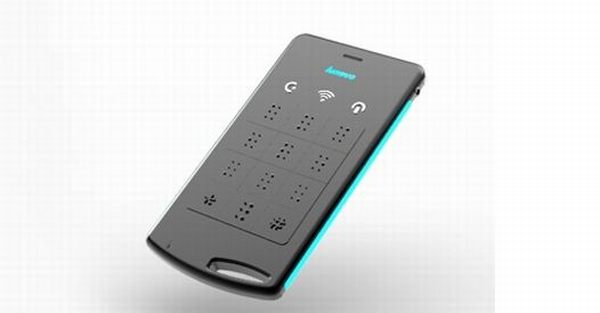 The concept
Designed for the Japanese mobile maker Toshiba, this is a specially designed mobile phone concept to diminish the limitations of blind and the discomfort of them using the traditional mobile phones. The usual mobile phone makers focus on the specs and features of their products giving the least importance to thinking the usability for someone who is not able to see it. Moreover, the different models of handsets have different keyboard arrangements and contain operating menus that make it not just harder, but almost impossible to operate a cell phone for blind people. The keyboard of the Tactility is designed with Braille and features, which are most commonly, used function, which will definitely reduce the hassle of blind people using it.
Apt design
The lower corner of the phone has a slot in which a ring has to be attached and with the help of a chain, the phone can be strapped and carried easily by fastening it to the belt or around the neck of the blind person. This makes it a lot comfortable to be carried around and gives instant access to it.
Very commendable features
The phone has a slot of headphones output on the side, and there is a volume adjusting dock on the other side. There is also a voice memo control on the phone, which takes commands on the voice of the user. A flashing LED for a guide dog is additionally available on the device at it both sides. Like the ordinary phones, there are keys for 'call receive' and 'call hang up' provided on it. The usage of Braille on the phone has made it a perfect phone for the blind.
Although such concept phones probably won't be selling like hot cakes in the market, however they are sure going to create a lead for the other mobile makers to follow a trend and make similar devices, which may be of help to the specially-abled people.
We can expect more mobile makers to come up with devices like this in the future for not just the blind but also for the deaf. Such devices for the dumb will be a blessing for them and help them to an unimaginable extent. More of similar devices will sure make the world a nicer and better place to live in.