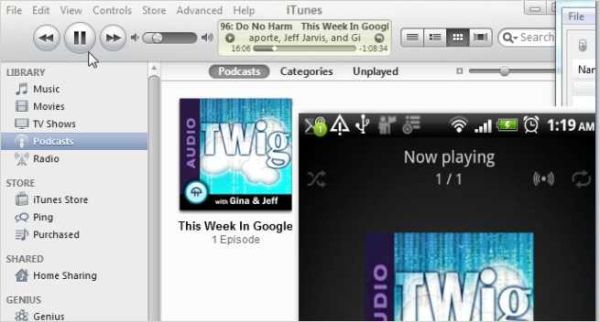 Android is the mostly used OS in mobile phones nowadays and it has made many fans since its release. Now, the market is having two major honchos in mobile OS field, one of which comes exclusively with its own products, i.e., iOS by Apple and the other one is an open source OS which comes handy with most of the other brands.
iTunes is an app mostly favored by many users even if they are not Apple users. Its features make it play a vital role in sharing and synchronizing music online and between the devices. So, if you are not an iPhone user and the owner of an Android device instead, synchronizing your device using iTunes could be frustrating for you. So, here are some tips to sync iTunes and make sure your cover art works well on your Android phone.
There are many softwares which let you sync your device with iTunes but I prefer Salling Media Sync over all others because it is very much user friendly and the syncing also takes minutes with Android devices.
Difficulty level: Easy
Time required: 10-15 minutes
Resources required
Salling Media Sync

Your PC with Windows/Mac

Your Android Device

iTunes 7.6.x or later
Synchronizing with iTunes
Salling Media Sync is a complete package to sync your iTunes media to Android.

Install it into your PC.

It will then ask you for mounting your phone as a storage media when you launch it. So pick up your Android phone, drop down the notifications bar, and then tap onto the 'disk drive' option.

Once your phone is mounted as a disk drive, your phone will be detected by Salling Media Sync immediately as an external storage media.

Now go to the music tab, under that tick in the check box saying 'Sync Music'. Two option boxes will be enabled named, 'All songs and playlist' and 'Selected playlists'.

If you want to sync all your iTunes music to Android, select the former one and if you want selective playlists to be updated then select latter option and select your desired playlists to be synced from the box below.

Click the sync button, and after a couple of minutes, voila! all of your iTunes music is now synced with your Android phone; quickly and without any hassles.
Syncing podcasts
If you have subscribed podcasts in iTunes, and you want to get them onto your Android phone, Salling Media Sync can take care of that also for you.
Syncing all your podcasts is quite similar process to that of syncing your music. Go to podcasts tab, tick in the check box for Sync.
Select episode types (recent, new, unplayed, All, etc.) and select an option from 'All podcasts' and 'Selected podcasts'.
Click on sync and syncing starts!
If you want to listen to selected songs or podcasts, make a selection of desired songs and then click the sync button, and all your podcast get transferred/synced to your phone.
Syncing photos
This feature of Salling Media Sync would give you the ability to Sync your photo galleries on your PC residing under different softwares like Adobe Photoshop Elements with your Android device. This do not have any relation to iTunes but a very good feature to have your pictures shared.
Open the photos tab in Salling Media Sync.

Tick on the checkbox saying 'Sync photos from'.

Select the software from which you want to grab your photos.
Frequently asked question
Why does the Verizon Droid hangs after syncing more than hundred tracks?
Many complains have been received about this problem and the only solution available for this is the replacement of the stock SD-card. If you are also facing this problem, I suggest you to contact Verizon and get your SD-card replaced.
Things to watch out for
Although the Salling Media Sync supports a lot of devices but there stands a chance that your device may not support any device.