Stride is a new app for jailbroken iPhones that allows you to protect your device without the use of boring old pass codes. Through this tweak, you can use an on screen gesture as a pass code instead of a series of letters, numbers or a gesture on a limited nine point grid. Designed by Adam Bell, this reliable lock/unlock process can create any shape or gesture as a password.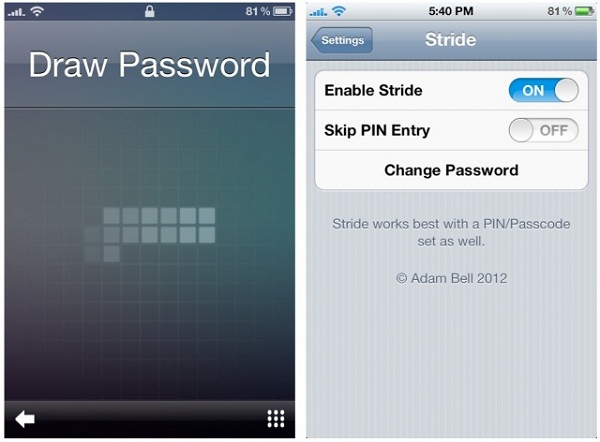 Gone are those days when you have to slide the bar to unlock your iPhone. Please admit it that the iOS lock screen looks dull; and we are using it for a long time now. Yes, we agree that it is an elegant as well as a nice way of unlocking the device and it is pocket proof-making it hard to perform while the phone is inside the pocket. However, now people want some change or we can say something new to secure their iOS device. Now with Stride, you just have to draw a password and then use the same pattern to unlock your iPhone. Although, Stride is secure enough, but if you want you can set a PIN/pass code for your satisfaction from the same app. It will provide extra security and will help if you forgot the gesture.
We have seen many gesture unlocking tweaks in the recent years but never saw something as smooth, polished and as fast as Stride. You will love the cool feel as well as look of the interface and the eight bit area where you will swipe your finger. Further, if you have been a video game fan then it can make you remember the old days. Stride is available at $2.99 via Cydia installer. Right now, it is not compatible with iPads.
Via. Cellocean