Sony Ericsson Xperia X1 is a beautifully crafted mobile phone that packs in a number of sophisticated features and applications. The handset flaunts a stupendous and ergonomic design that suits all sorts of buyers. Though the device was unleashed few years ago, it has got pretty amiable features and functions that make it still compete with the contemporary handsets. In fact, Xperia X1 was a highly advanced model when it was launched. The handset's price tag is quite expensive; yet users expected worthy features, which Sony Ericsson came out with beautifully. Uncover the story below to excite yourselves with this handset's unique style quotients and packaging brilliance.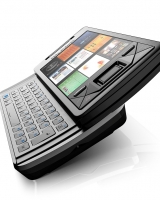 Performance
With a rated capacity of 1500 mAh, X1's Li-Po battery delivers a laudable talk period of up to 10 hours on the 2G mode and about 6 hours on the 3G mode. Regarding the standby time, it lasts for about 833 hours in the 2G mode and up to 640 hours on the 3G mode. With a little RAM capacity, applications and programs demand some time to load their default interfaces. 
Features
Sony Ericsson Xperia X1 was designed and developed to work with 2G and 3G bands. The device runs on Microsoft Windows Mobile Operating System, version 6.1 profession edition. On the technical side, X1 possesses a 528 MHz ARM 11 processors and a Qualcomm MSM 7200 chipset. The handset's most captivating feature is its gorgeous display screen. To be precise, X1 withholds a 3.0 inches TFT resistive touchscreen that could literally display 65K shades of vibrant colors. This display screen has an enormous pixel density of about 311 ppi and its resolution measures 480 x 800 pixels. The device includes an optical track pad that helps users to navigate on two dimensions over the screen. In fact, some enthusiasts call it as the handset's mouse.
The bulky design possesses a full qwerty keypad which can be accessed by the sliding upper part of the device. Inclusion of sophisticated data-transfer technologies like GPRS, EDGE and Wi-Fi delivers a comfortable browsing experience on the move. WAP enabled browser and RSS feeds add comfort to the user's browsing needs. With an inbuilt 256 MB RAM, applications and programs perform well. ON the multimedia side, X1 boosts a 3.15 MP primary camera along with auto-focus and LED flashlight. Inclusion of a touch-focus option enhances the imaging experience. Technically, this primary camera could capture images in the resolution of 2048 x 1536 pixels. In addition, it could also record motion images at the frequency of 30 fps. Fortunately, the device includes a secondary camera that assists in video call operations. 
High quality music can be relished through the handset's 3.5 mm audio jack with the included headphones. Its built-in stereo FM radio keeps the users connected with their society and local updates. Sony Ericsson Xperia X1 has an inbuilt storage capacity of 400 MB. On the other hand, it supports external memory capacity of up to 16 GB through microSD cards. A standard Lithium-Polymer battery powers up this device for a convincing period. Not to be left out, X1 flaunts an assited GPS feature for precise navigation aids. Inclusion of a loudspeaker relieves users from using their headphones at all times. The presence of Bluetooth and mini-USB feature let users to transfer data with external devices on the wireless and wired mediums respectively. Other features like image editor, pocket office, MP3 and MP4 players, predictive text input, MP3 ringtones, etc., are customary.
Design
Sony Ericsson Xperia X1's bulky design makes the mobile admirers feel wacky about it. When users realize the handset's sliding form-factor and the presence of a full qwerty keypad, they would immediately fall in love with it. On the front face, the high density display screen occupies the majority of the space while the call handling buttons and the track pad are present below. The design of the keys has been beautifully represented by the alphabet X's shape. The volume rocker could be identified on the upper side of the right face while the dedicated shutter button could be found below. On the left face, the port for accessing its mini USB feature and the loudspeaker are designed meticulously. As conventional, the primary camera along with LED flashlight is positioned on the rear panel. The microSD port is designed inside the battery casing which makes it quite inconvenient for the users to access it frequently.