Amid high end mobile devices integrated with avant-garde technologies and sleek body curves, Sony Ericsson has been sharpening its axe and still staying glued to its 'music-centric' pieces. Though music phones by the maker have quite often made a fortune and pulled off well, we somehow find it difficult to run for cover and divert our attention from their other features. Nevertheless, the latest addition to the company's portfolio is Sony Ericsson W205 entry-level dual-band GPRS/GSM walkman phone. Almost like a treat for music aficionados, the device comes equipped with great sound quality and an easy to use interface. So, does that suffice? Well, not really but 'cramping your pocket up' is definitely not in W205's list. Getting down to brass tacks, the phone emerges to be a quite decent option for those who want simplicity, good music and somewhat entertainment well wrapped in a compact form factor.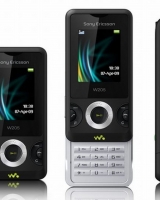 Performance
Talking about the model's highlight foremost, Ericsson W205 renders good music performance and comes off well in sweeping music admirers of their feet. Be it the integrated music player, FM radio with RDS or its dedicated music software, the phone functions quite impressively on the music front. You may also appreciate the version's interface which is not only simple to use, but also intuitive to an extent. Besides this, the handset quality still surpasses a number of other middle-class Walkman phones.
On the other hand, users may also have to arch their shoulders for the low resolution display. You name it – reading, watching or viewing something, the display fails to impress. Joining the quality next is W205's embedded low resolution camera. If you are ready to shell out your hard-earned money, even if it's a tiny amount, then its music dedication is what will keep you on the shores. Apart from which, we absolutely don't find any reason to show your brand loyalty. Furthermore, the absence of some other significant features adds on to the agony.
Features
Before you start counting high, let's just glance over the device's specs. Enclosed in a slider form factor, the pleasant-looking W205 from Sony Ericsson features a small 1.8" color TFT screen with resolution support for 128 x 160p. That may rather leave you wondering if Sony Ericsson still lives under the rock? But honestly, even we fail to understand why a company would integrate such an itsy-bitsy display when others are just stepping higher with wide and wider screens. Nevertheless, the phone with music at its heart does manage to piggyback some good music features, which include stereo FM radio with RDS, Walkman Media Player, Track-ID Music Recognition and stereo headset. For those who like fluttering their smiles and capturing the same, there's a 1.3 megapixel camera with video recording and 2.2-fold digital zoom. Jumping to the storage capacity, the phone lends support up to 2GB and integrates 5MB of internal storage. Some other attributes that might catch your attention include Bluetooth, USB v2.0, Predictive text input, talk-time of up to 9 hours and standby time of up to 425 hours.
Design
In terms of design, W205 gets snoozed in a blockier, plastic build that weighs pretty lightweight at 96g. However, the handset feels quite inexpensive in hands and gives out an impression of low quality fabrication. So, if you were expecting the device to harmonize well with your exquisite taste, you would rather be left disappointed. Sony Ericsson has nonetheless ensured sturdiness by adding somewhat sublime components. It not only feels hardy enough to withstand knocks and bumps, but also saves you on a rainy day.
Dimensions-wise, the phone shares the volume of 92mm x 47mm x 16.4mm which should rest comfortably in your hands. Nevertheless, the slide mechanism is somewhere clunky but buttons on the chassis come across as a nice amalgamation. The number-pad, on the other hand, is flat and has been covered by a transparent plastic sheet with a rubbery finish. There, some of you may find the handset as endowing the similar aesthetics to Sony Ericsson's W595.
Bottomline
To summarize, Sony Ericsson W205 is quite a decent option for people who are more interested in listening to music. Priced around Rs. 3,522, the phone however will make you compromise on other features. Available in shades like windy blue, ambient black and sakura pink, the simple yet stylish W205 can be sifted out if your primary needs revolve around – music, music and music.