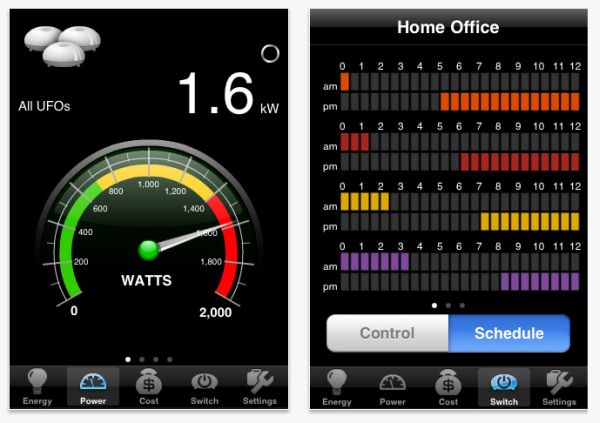 Whether you've an annoying senior who doesn't lend an ear to your need for income appraisal or have an alert family member who notifies you of the expenses all throughout, controlling your budget in this rough economy may not look so simple. And no matter how much you deny, one sure usage that gulps down most of your money can be noted as the electric usage. Although there are ways to trim down the consumption and save your money, having a dedicated application that specifically helps in monitor energy usage may always sound better. To help you lead a better future both financially and environmentally, we're listing down ten smartphone apps that not only assist in controlling your budget, but also save the environment for a better future.
Meter Readings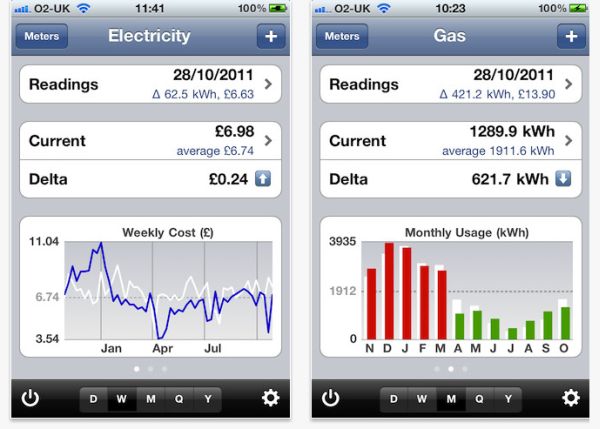 Designed by Graham Haley, Meter Readings allows you to monitor your electricity, water and gas meters across one or more properties. The app offers quick entry of readings and helps users glance through their usage and costs since the last bill. Available through Apple's App Store, the app can be downloaded for $1.99.
Green Outlet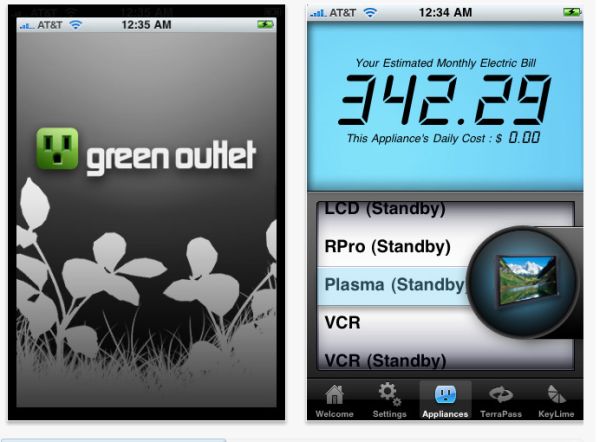 With Eco-friendliness as focus, the useful Green Outlet helps you make a wise decision by notifying about the appliances that are costing you the most. The app also alerts the user when the Recommended Carbon Usage exceeds. Users can download this one for $0.99.
MyEnergy Tips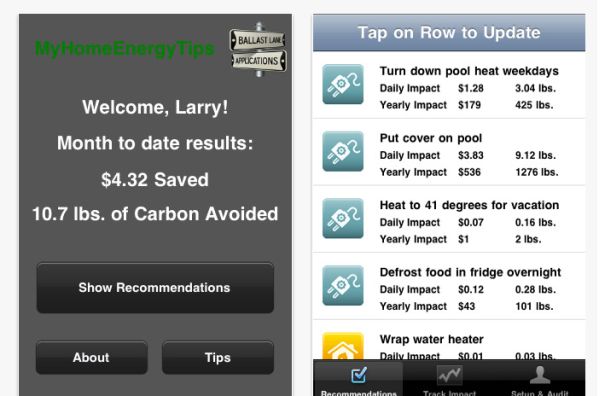 Aimed at helping you make smarter choices, the app automatically produces targeted recommendations and keeps a tab on which ones you settle upon. Available for $1.99, MyEnergy Tips also puts forth a reliable summary of money saved and carbon production avoided.
TV Energy Labels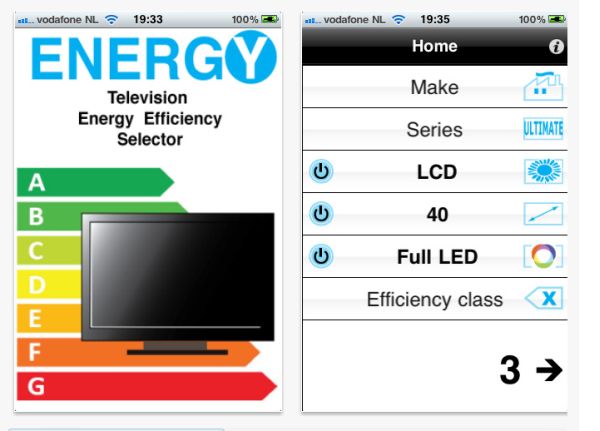 Besides helping you save on your money, TV Energy Labels allows one to discover how much annual electricity bill will be induced for any television. The app features Smart Selector that lets users sift out from all models as carried by brands like Philips, LG, Samsung, Bang & Olufsen, Sony and others. TV Energy Labels can be purchased for $0.99.
Light Bulb Finder

Available for free, Light Bulb Finder ensures utility by enabling users to find the right energy-saving light bulbs. Based on the impact on environment and financial payback, users can conveniently decide on which bulbs to replace.
Kill-O-Watts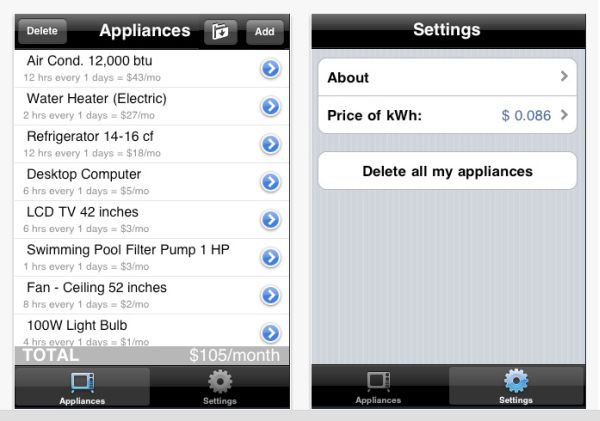 Another smartphone app that lets you save on electricity is Kill-O-Watts. The electricity costs calculator sheds light on how many kilowatts each appliance consumes per hour and how much you pay for it on a monthly and yearly basis. The app also enables users to compare the electricity consumption cost of two different appliances' respective brands before snapping up one of them. You can buy this app for $0.99.
Watts Plus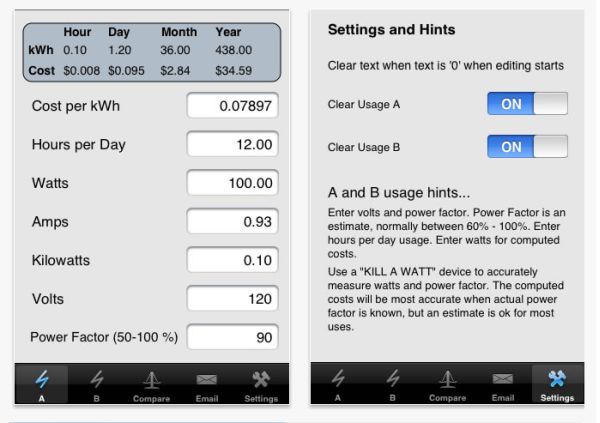 Tagged at a price of $1.99, Watts Plus calculates the approximate electricity bill of electrical appliances in usage. Designed to render complete efficacy, the app also allows users to compare usage and acquire information on electricity cost per hour, day, month and year.
ecobee Smart Thermostat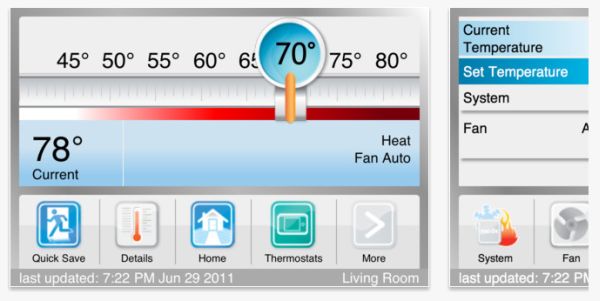 The Wi-Fi enabled programmable thermostat app has been embedded with a simple user interface and a color LCD touchscreen for enhanced experience. With purposive features incorporated, ecobee Smart Thermostat also integrates cooling, heating, energy management, ventilation and utility demand response. Users can download ecobee Smart Thermostat application for free from Apple's App Store.
Energy UFO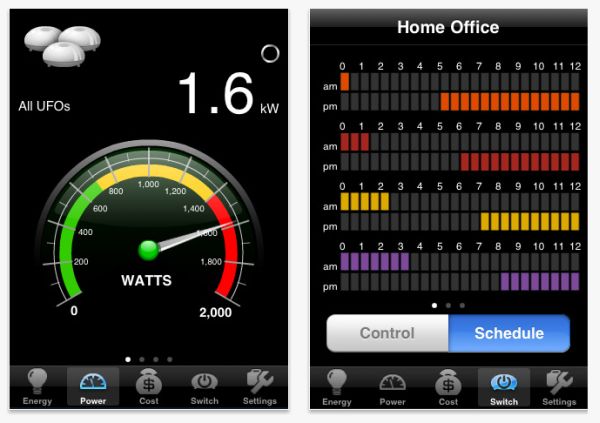 Designed to provide comprehensive energy monitoring in real-time, the unique Energy UFO app leverages the experience by offering visual feedback of electricity consumption. The fully functional app also helps one realize about the electricity cost and significance of the energy conservation. You can download Energy UFO for free from the iTunes.
People Power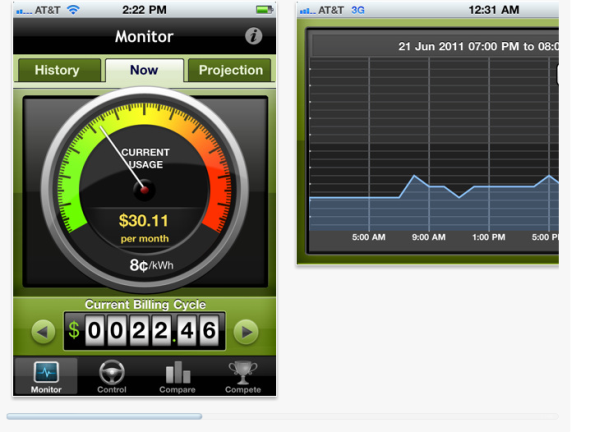 Lastly, People Power emerges to be the simplest yet effective route to managing the energy. Available for free, the energy-saving app assists users in saving their money and realize when to cut down the electricity usage. The software further lets one control their bill with an energy budget and monitor their past, present and projected energy use in real-time.