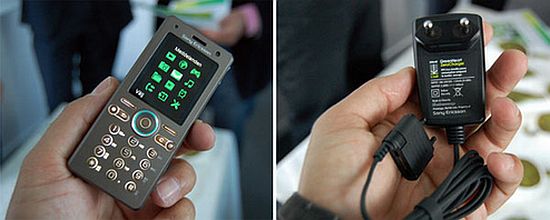 Designer: Sony Ericsson
For a phone made from recycled materials, the Sony Ericsson GreenHeart concept cellphone is one good looking gizmo. The concept isn't being thought of as a production-ready option (not yet at least!) but since SE are showing it off to industry partners and customers, in a bid to develop and design its features, we're guessing the basic idea behind the green phone might be seen in Sony Ericsson handsets in times to come.
What's Innovative?
Fitted with bio-plastic casings, recycled plastic keypads and a zero charger with 3.5mW standby power, the GreenHeart phone is perhaps as green as it gets without making the whole thing with wood. What's even better is that the company has come up with HTML based e-manuals instead of traditional printed ones, and environmentally conscious packaging to ensure that the phone remains environmentally sustainable throughout its life cycle.
Status: Not designed for production.
Source: Gizmodo