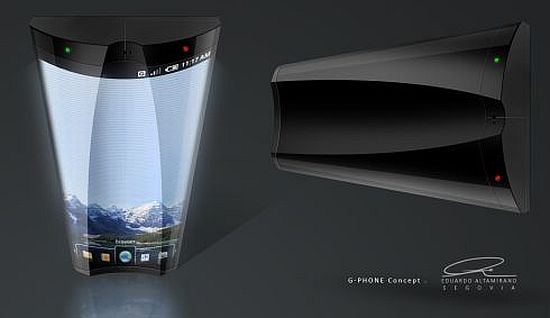 Designer: Eduardo Altamirano Segovia
As far as concept phones go, this one has got to be the most unusual amongst the ones we have seen in quite a while. For starters, it's a Google Android Phone concept. And if that fact wasn't enough to make it outlandish already, then its bizarre curved-like-a-vase front frame will have you cringing for sure.
What's Innovative?
Featuring an OLED screen, the G-Phone concept also features an accelerometer that can detect the handset's position to help you hang up a call or choose "yes-no" or "up-down" options without lifting a finger, which sounds a tad weird because the curved surface of the phone apparently is suppose to enhance the interaction of the screen's center line with the user's thumb.
About the Designer:
Eduardo Altamirano Segovia is an award winning professional 3D Artist and is currently based in Mexico City.
Source: Concept Phones