Designer: Tao Ma
Product Description: The Sony Ericsson ring-cellphone can safely be included in the tiniest cell phone category. While answering a call simply hold the ring close to your ear and pull out the microphone. It has a round screen for simple and easy communication.
What's innovative: This is another example of a wearable gizmo or I'd rather say a jewelry gizmo. This could not only be your tiniest cell phone but also wearing it on the finger means you can do away with the hassle of carrying the cell phone and the associated danger of dropping or losing the device.
About the designer: Tao Ma lives in Nanjing, China and has done a Masters course in Industrial Design from the School of Design of Southern Yangtze University. He is the creator of a large number of concept phone designs.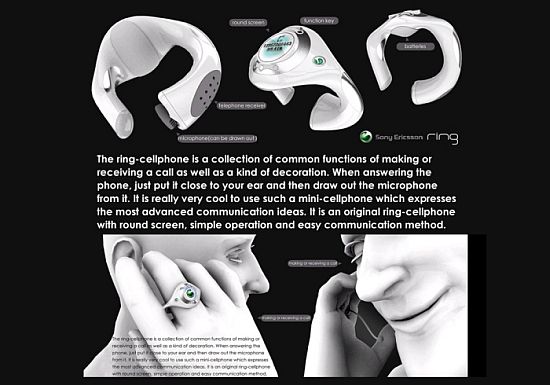 via:Concept Phones