Designer: Tobias Hornof
Definitely not your average Nokia inspired concept, the Nokia 7000 Pocket is a true cellphone lover's tribute to one of the most famous cellphone brands of our generation. Laced with an innovative iPhone-esque interface and a futuristic virtual QWERTY keypad on the uber-exotic touchscreen display, the phone stands out from the crowd, thanks to its super-petite frame. Offering most of the regular cellphone services including music and video playback, camera, photo gallery and an internet browser, the concept vaguely reminds us of the things mentioned in the great children's magic adventure novel Alice in Wonderland and definitely gets our vote for being the most innovative Nokia concept in a while.

What's Innovative? A petite square frame offers the phone a glamorous and fashion-friendly look that could well appeal to the younger crowds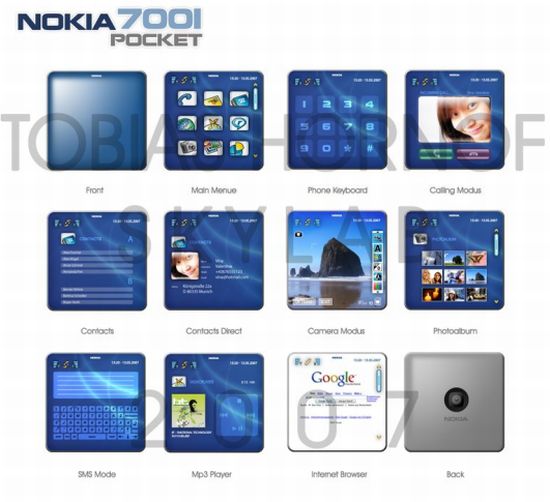 About the Designer: Tobias Hornof is a 23 years old Reutte, Austria-based Industrial and Fashion/Apparel designer who has tried displayed his talent via numerous innovative designs in the cellphone, fashion and shoe segments.
Source: Concept Phones