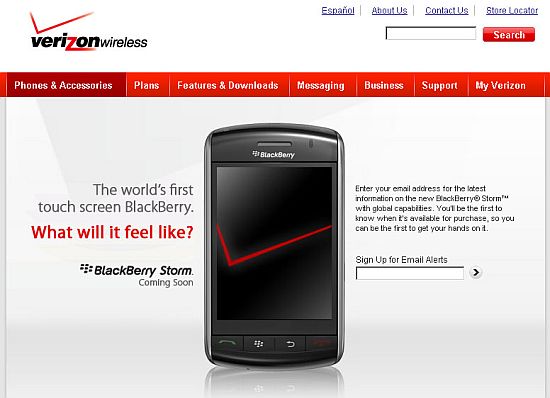 Target Consumers – Hip and happening professionals.

Should they buy it? For the looks alone, I'd say totally!
Why? After all that speculation and drama, the Blackberry Storm finally went live in the Verizon site and we have the pictures to prove it too. For a potential buyer the wait continues but since we have been waiting for it almost forever now, it only kinda makes sense that we give it a shot check out the new BB for ourselves to see whether all the fanfare was worth it. Of course, stunning good looks also contribute to the phone's appeal though I'd say the mesmerism of the Strom being the first ever Blackberry to get a "click" touchscreen should be quite a tempting offer too!

Technical Specifications: Featuring the highest resolution for a RIM phone, the Storm also comes armed with a blazing 3.2 megapixel camera, Visual Voicemail, VZ Navigator, email messaging, enhanced security features and a full HTML browser to further help you enjoy the touchscreen Blackberry goodness.

Pricing and Availability: For the time being no reliable sources could be quoted about the pricing and availability of the goodly PDA though rumor has it that it could cost something like $199 for the phone and a 2-yr contract when the phone starts shipping early November.
Source: Boy Genius Report