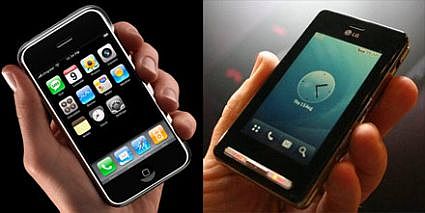 A few days back, LG readied its £400 Prada phone to battle the Apple iPhone but I am not quite sure whether it will be able to do that. However, the Prada KE850 is at an advantageous position since we will have to sit back for a long time to see the coveted iPhone while the Prada phone I scheduled to ship beginning 25th March 2007 in UK.
Although, it's not a smartphone, but it's an elegant regular handset with a touch-screen interface touted to gibe a tough battle to the Apple iPhone.
The good specs include 256 MB microSD card and a two megapixel Carl Zeiss built-in camera with LED Flash. But I wonder they had mentioned an "external memory slot" but a sample showed that the memory card could only be substituted via a battery removal, which makes me scratch my head.
Like the iPhone, the Prada phone also suffers from the lack of 3G. It's just 2.75G (EDGE and GPRS) and not a full 3G phone. So, I doubt you will go after a phone that will not be 3G compatible. And yes, it hasn't any QWERTY keyboard for e-mails.
Well, the phone will come along with a dedicated Prada Bluetooth headset. You can have access to the MP3 player and the video player at the touch of the screen.
But, the biggest downside with the LG KE850 Prada phone is that it's not 3G compatible.
Via: theinquirer