If you find it difficult to hold your iPhone for longer hours, this new Slingshot stabilizer may be the best innovation for you. Designed by Charles Waugh, Slingshot will assist smartphone users while capturing images and videos.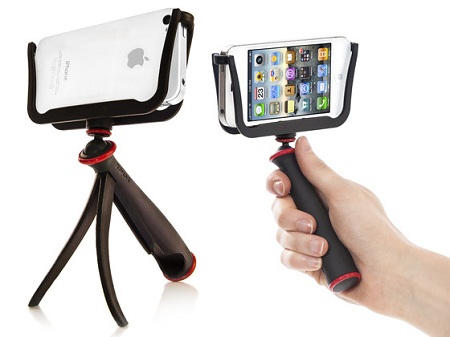 In today's world most of us use our smartphone cameras for shooting purpose and due to this, all mobile manufacturers are constantly working to improve their cameras. There are lenses available in the market to beef up your smartphone camera. We all know that tripods gives added stability to a camera, but shooting videos on smartphones becomes a little shaky, no matter how hard we try to keep our movements smooth. So, apart from the lenses, what else do we need to use our smartphones as a professional camera? Maybe a tripod or we can say a stabilizer.
Here the Slingshot comes in picture that serves as both a tripod and a handle for your phone. It is created from injection moulded acetal resin having a trade name Derlin. This is the same plastic used to create industry gears and many other tough products. It has the ability to bend and twist, without breaking.
Slingshot works with all the smartphones. It is flexible enough to hold all of them, even upside down. Slingshot has a ball mount that allows you to swivel the smartphone. Its handle hides two legs that transform it into a small tabletop tripod. Apart from that, you can always remove its cradle and mount it on any other standard tripod.
Via. Kickstarter