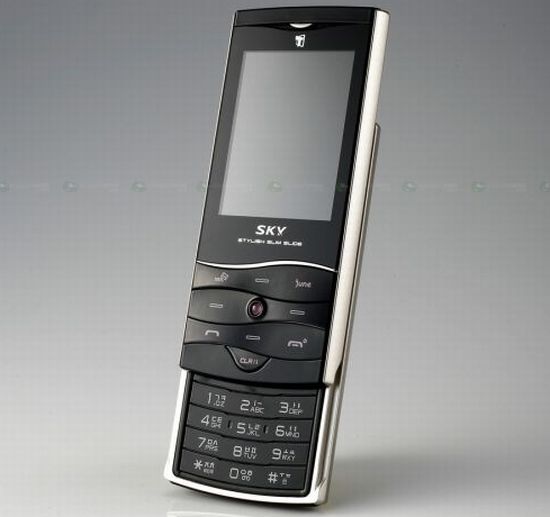 Mobile phones are the latest accessory that allows you to make a style statement. If you believe that having the latest piece of electronic magic is equivalent to making the best style statement, then you are grossly mistaken. Choosing the right phone is a lot more complicated than you think it is. You need to not only find the one that sports the best features and strikes the right balance regarding the features you are looking for, but also needs to complement your personality. There is nothing more annoying than seeing a guy carry around a flip-phone which is shaded in some pink of bright red. Let's just say that it is like Harry Potter picking his wand. It is not easy and most often the cell picks its user.
Apart from that unasked advice about how to pick a mobile, let us move on with the issue on hand, which is the new IM-S300 of Sky. The premium brand of Pantech & Curitel, unveiled today in Korea its latest baby, which is surely much beyond just a baby. The phone looks really cool and is a slide model. Now that automatically implies that it is ultra-stylish, but also for people who care for their cell. The wavy below the screen gives it a very unique look.

It sports a 2.2 inch screen and a 1.3 mega pixel camera. In this time and age that frankly is a big let down since cell phone makers have gone a long way with integrating high resolution cameras with mobiles. It does have a multimedia player and also sports other basic features that you are looking for. It is Sky's 'Stylish slim slide' and quite frankly at €297, it is not really a great buy. One has to wait and see if it has any other unique or special features. If it has them and Sky has not yet highlighted them, then that is a pathetically bad marketing strategy. If it is just that and nothing more than what is known till now, then it is an utter waste of money. Style is good, but not everything.