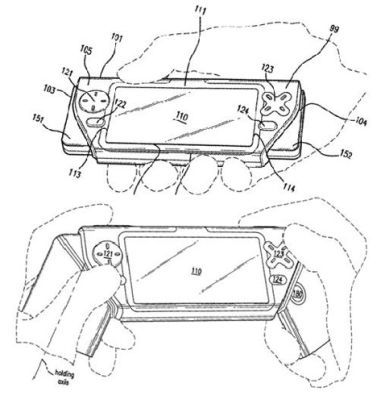 Mobile phones stopped being just mobile phones a long time ago. Now they are more MP3s, cameras, video players, web-surfers and what not, than just simple old cell phones. The lesson: versatility is the name of the game when it comes to grabbing market share.
Flashback to a couple of years back. Back then it was Nokia that came out with a dedicated gaming phone aka N-Gage/N-Gage QD. Those were more of mobile phones that used to double up as gaming consoles. Nokia, apparently is keen to improve upon its creations, so a couple of days back it has filed for a patent that conceptualizes a gaming console that doubles up as a mobile phone, rather than being the other way around.
Moreover, this time around the device will be more complete. The patent mentions a console that has a built-in phone and a camera. Here's an abstract from the patent application entitled 'Handheld electronic devices' filed by Nokia:

The device 100 has a rectangular flat front face 105 to be presented to a user during use. Again, although the particular embodiment is shown to have a flat front face 105, other embodiments of the device could have non-flat front faces (e.g. curved/spherical/hemispherical/angular/undulating projecting features). The rectangular front face 105 comprises a centrally located rectangular display 110, the display having two longitudinal sides 111, 112 and two lateral sides 113, 114. The longitudinal sides 101, 102 of the device 100 and the longitudinal sides 111, 112 of the display are aligned.
The newest vision by Nokia is designed to be a multipurpose device. Of course, it is designed to be a slim, easy to carry around phone and a slick media player. But the USP will be the gaming mode. The device is supposed to have retractable bars on either side. When gaming, the user will be able to extend these handles, thus paving the way for more area to grab onto. This will give the user a more portable gaming console feeling.
Now we can't get our hopes too high at this early stage of conceptualization. Yet having been a great fan of N-Gage, I'm inclined to be a bit more optimistic. For the million of on-the-go gamers out there, this is a piece of news worth savoring.

Via