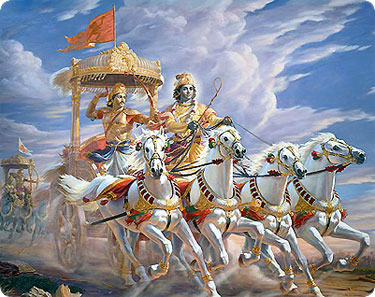 Long, long ago Lord Krishna stood between the two vast armies and told the true meaning of the battles, wars and the world to an uncertain Arjun, who did want to fight because he believed he had nothing to gain from it.
The intricate philosophical discourse that touched the worldly, the heavenly and the spiritual at the same time remains relevant even in today's turbulent, uncertain times.
Perhaps that explains why Mauj Mobiles, one of India's leading mobile VAS (Value Added Services) solutions providers has introduced 'Shlokas from Bhagwad Gita' for all mobiles in India. Presently, only the subscribers of Airtel have the facility.
Soon, all mobile users will be able to choose from 108 'shlokas' from Geeta that are part of 'Geeta Saar'.
The users would then be able to use it as their caller tune, ringtone or alarm alert. Besides, these 'shlokas' may also be sent as voice or normal SMS.
Manoj Dawane, CEO, People Infocom (Mauj), said that he was very optimistic about the acceptance of the services the people in India and abroad.
Besides, he also expressed his optimism about the service's acceptance among non-Indians abroad who had 'affinity to Indian culture and spirituality'.
The service is to be launched in three phases. The first phase would include the 'shlokas' recited in Sanskrit with the meaning explained in Hindi.
In the second phase the shlokas will be recited followed by their meaning in English and in the third phase the meaning will be explained in regional languages like Marathi, Tamil, Telgu etc.
Today when each one of us craves for internal peace and tranquility, the 'shlokas' will bring in a whiff of freshness and relief.