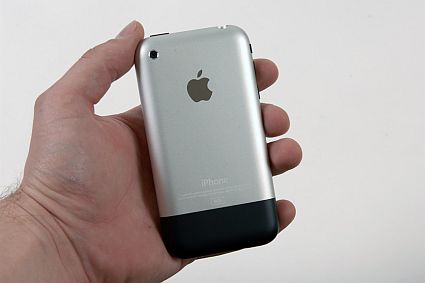 While speculations abound over the iPhone in Europe, the hottest news around the hot Apple tub is that the giant is thinking of taking wraps off a cheaper version of the iPhone in the fourth quarter.
Moreover, the JP Morgan report discloses that the new version will be based on the ultra-slim iPod Nano music player. The reports pointed to an Apple's patent for a multifunctional handheld device with a circular touch pad control, very much like the sweet Nano's scroll wheel.
Apple seems to have closed its eyes to almost everything as they neither said anything related to iPhone speculations for European launch nor they seem to be commenting anything on this new report. With more than 700,000 units of the hyped phone sold in the first weekend after its launch, a cheaper version (if it comes for real) can do wonders for Apple.
The pricing could get as low as $300 compared with the current price tags of $500 and $600 respectively, depending on storage space. Kevin Chang, a JP Morgan analyst cited:
We believe that iPod Nano will be converted into a phone because it's probably the only way for Apple to launch a lower end phone without severely cannibalizing iPod Nano.
If Apple manages to bring in this reasonably priced version of the iPhone, the 2008 sales target of 30 million to 40 million units doesn't seem to be out of reach at all.
Normally, people in US care to spend $100 or less on cell phones. If the analysis comes true and a cheaper version of iPhone is launched, Apple will be more than a threat to the deep-rooted phone makers such as Nokia, Motorola, Samsung Electronics and Sony Ericsson.
Via: MSNBC