The iPhone application of Aamir Khan's famous TV show Satyamev Jayate has made an amazing upward rally in App Store ranking. Within days after its release, Satyamev Jayate has turned a top entertainment app for iPhone. On its way to the top 25 apps of App Store, it has even surpassed the famous photo sharing app Instagram. As of now, the Satyamev Jayate is ranked 17 in App Store, i.e. one position ahead of Instagram.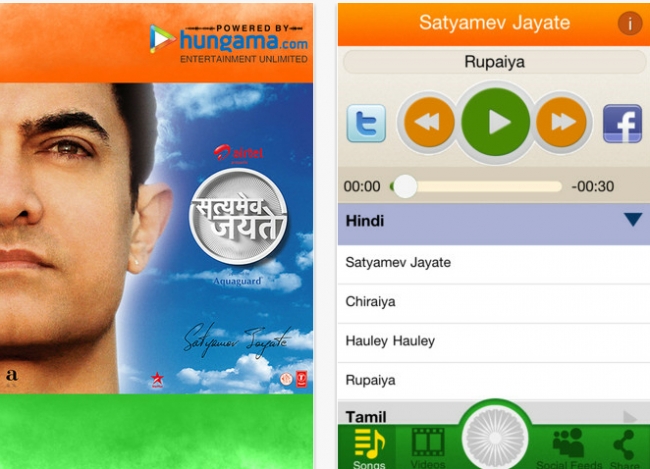 The Bollywood actor Aamir Khan's TV show has been enjoying such a huge popularity in the country. Broadcast on Star Plus and Star World, the TV show has a mammoth number of excited followers. Taking advantage of the popularity, Hungama Digital Media Entertainment has designed the iPhone app, which is available in App Store for $1.99 or Rs 110.
Satyamev Jayate app provides all music from the TV show. You can also stream songs and favorite videos using the app, which touts a nice interface and huge collection of digital content. What's more, the app also offers rich social media integration. That is, you can share content with you friends on Facebook and Twitter on a single tap of a button.
The iOS version of Satyamev Jayate works on all iPhone versions from iPhone 3GS. And currently there is no Android version available for the rocking app. As per reports, Hungama is working to develop the Android version of the app. Indeed, the record breaking count of downloads and popularity will further prompt the firm to launch an Android version sooner.