The popular messaging and walkie-talkie app Talkbox has finally landed on Windows Phone. Talkbox team has updated the pilot version of the app with Talkbox 1.0. Windows Phone users can now easily send messages and get involved in walkie-talkie conversions with friends. The major attribute of Talkbox version 1.0 for Windows Phone is its push-to-talk capability.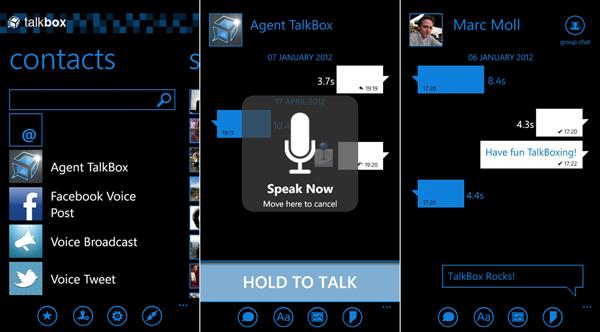 Notable features of Talkbox for Windows Phone include walkie-talkie, text messaging, photo sharing, voice messaging and location sharing. It also offers a new cross-platform messaging facility. The app works free over internet connectivity either via 3G or Wi-Fi. Users can use Talkbox for making group chats, posting voice to Facebook and Twitter and marking messages as favorite, which is an exclusive feature for Windows Phone.
Above all, the Talkbox app touts integration of your phone's address book and Facebook contacts. It also saves conversation history so that you can access the earlier communications whenever you want. Beyond all, the app comes with 12 theme colors. If you feel fed up with a theme, you can just switch over to another thrilling one.
Talkbox has been a notable app on both iOS and Andorid. The app has been largely used by people for various messaging purposes on both iOS and Andorid. The company has also launched a pilot version of the app for BlackBerry. Soon, we will get the BlackBerry version of the Talkbox, thus the service will be accessible to many more people.
Via: WindowsPhoneDaily