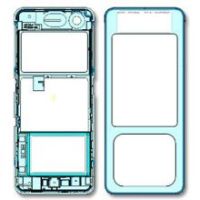 The SPH-M620 is the latest CDMA entry from Samsung that has got the approval nod from FCC.
The USP of this phone will be the two-sided functional design similar to what we saw in F300 with screen and keypad on the both sides of handset. The front will have a large screen for multimedia viewing while the back screen can be used for making calls at it has numeric keypad attached to it.
Rest of the features will include 2-megapixel camera, A2DP Bluetooth and 100 MB of internal memory. Likely carrier will be Sprint and after FCC nods it might only be days away from the launch.
Via: BGR